Grass Testing 2022
GRASS TESTING
Teagasc Cork West provide a Grass Testing Service to clients. This is unavailable at present, when the service is operational again, details will be posted on this page.
Testing will take place (to be confirmed).
A Maximum of 2 samples per client will be tested only.
Samples should be left in the box provided outside each office (time to be confirmed) each morning.
Results will then be phoned back to client later in the day.
Please ring your local office in advance of dropping off samples.
Clonakilty – 023 8863130 Macroom – 026 41604 Skibbereen – 028 21888
Each sample should be labelled with the following information:
Name
Address
Phone number
Adviser Name
Sample A area details
Sample B area details
Today's Farm May/June 2020
30 April 2020
Type Magazine

Silage: Monitor your grass and manage your plan
Publications
Teagasc Daily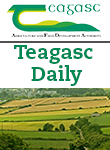 Grass 10
In 2017 Teagasc launched a mulit-year campaign to increase grassland utilization on livestock farms. Click on the logo below to find out more.