Visions of Research
The annual Vision of Research and Innovation image competition invites all Teagasc staff and students to submit digital images created in the course of their work. The aim is to find the most innovative and compelling images showing the range of research and innovation activities taking place across the organisation.
Winners 2022
Bio-Control
Fiona Hutton
This image was taken in a field of rye grown in the crops research centre, Oak Park, Carlow. Green Orb-weavers have a bright green abdomen and a reddish-brown coloured head. They are a common native species in Ireland and the UK. Their webs snare insect prey, but can also trap pollen and fungal spores. Despite their almost fluorescent colour they can remain very well camouflaged amongst vegetation. When recycling their orb webs, the spiders also feed on adhering pollen grains or fungal spores via extra oral digestion. They are extremely beneficial as a natural bio-control in crops.
---
Under the shoulders of giants
Ian Short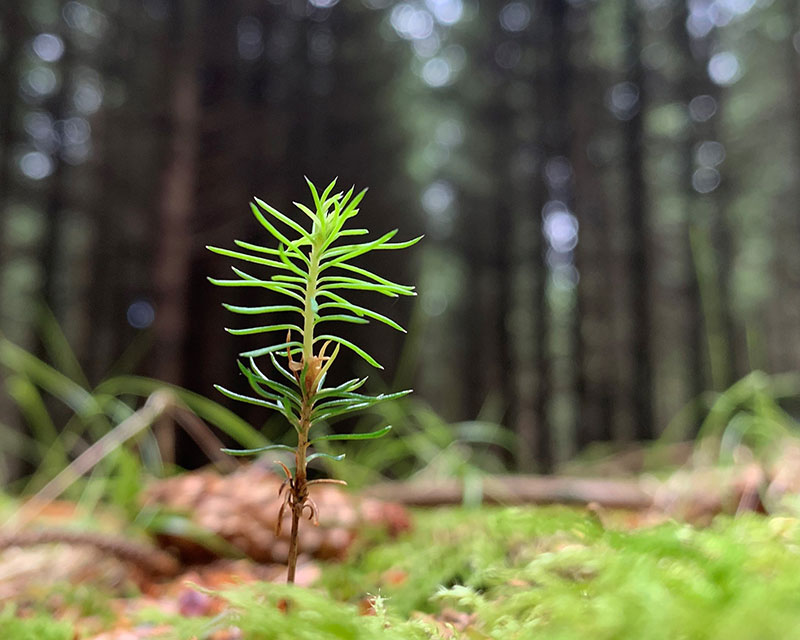 The majority of forests in Ireland are even-aged plantations managed under the clearfell silvicultural system. Interest in alternative approaches to management, such as Continuous Cover Forestry (CCF), has been growing over the last two decades. CCF systems continuously maintain forest cover by nurturing the development of a new canopy under the older canopy prior to being harvested. The 4-year ContinuFor project commenced in 2022, is a development of the Teagasc-funded TranSSFor project (2017 – 2021), which itself was a development of the DAFM-funded LISS project (2010 – 1014). The continuous maintenance, nurturing and researching of the experiment sites instigated by LISS is imperative for the success of such long-term silviculture research.
---
Next Generation
Fiona Hutton
Cereal production is currently facing large yield losses due to the loss of pesticides and fungicides for control. Ongoing monitoring for pests and diseases is crucial. This image was captured whilst monitoring crops in Teagasc Oak Park. The common green shield bug has a bright green body with tiny brown 'puncture marks', and brown wing tips. Mating is back-to-back. Eggs are laid on the undersides of leaves and hatch into wingless nymphs in June/July, becoming adults by autumn. Green shield bugs are part of the natural diversity of woodlands, hedgerows and trees.
---
Transforming Green to Gold: The Alchemy of Irish Cheese
Richard Page
In Ireland, cows generally graze upon ryegrass monocultures and these systems rely on nitrogen fertilisers with associated financial and environmental costs. Multispecies swards could offer benefits by increasing biodiversity and reducing costly chemical inputs through natural nitrogen fixation. This research investigates the nutritional and techno-functional consequences within cheese when applying multispecies grazing. Since cheese is widely consumed, any differences in cheese made from multispecies systems needs to be better understood for possible health impacts and commercially for dairy processing. This research is a collaboration between Food Chemistry and Technology (Richard Page) and Grassland Science (Alann Jezequel), Teagasc Moorepark.
---
Looking into the eyes of a pig
Lucy Markland
Looking into a pig's eyes can reveal what emotional and intelligent animals they are.
---
Lake side view
Leona Murphy
Lakes and wetlands are incredibly diverse and host to an amazing world of animals, plants and other organisms, making them a hot spot for biodiversity. These habitats also provide additional ecosystem services, including: carbon sequestration and carbon storage; flood mitigation; pollination; and water quality benefits. The FarmECOS project has undertaken research to support the retention of farmland habitats (including lakes and wetlands), to enhance the quality of habitats and improve ecological connectivity from the farm to landscape scale. This photo was taken on a sunny winter morning of the lake in Teagasc Oak Park.
---
Re-designed bread
Barbara Biduski
The picture represents a re-designed product with alternative ingredients without changes in the bread quality. The product has improved satiety and digestibility with enhanced nutritional value (high protein and fiber content). The bread's key ingredient was peas and red lentil flour. The background picture was made with the same grains used in the bread produced and the Teagasc logo was re-designed with peas and red lentil flour but maintaining the original format.
---
Dotty dots on trees
Dheeraj Rathore
Plants exist in close association with microbes, both on surface (epiphytes) and inside (endophytes). These microbes are also known as second genome of plants which help fight against biotic and abiotic stressors. ElmAsh project will explore microbiomes of different ash genotypes to identify and grow culturable microbes that could be used as bioagents in combating ash dieback disease and other threats. This image shows some of the fungal epiphytes that grew on the surface of fallen tree into these beautiful mushroom like structures which are also providing an essential ecosystem service by decomposing dead tree into organic matter.
---
Hidden colours revealed - The science of leaf colour change
Dheeraj Rathore
Changing leaf colour is a chemical phenomenon as the summer days shorten and temperature drops during autumn months. A compound called abscisic acid triggers the slowdown of leaf development to finally stop it, by reducing water supply to the leaf which traps the chemicals remaining in the leaves. They gradually break down, changing the colour of each leaf before it falls to the ground. The carotenoids are responsible for bright yellow colours, while anthocyanin is responsible for the red shades, combined they produce orange hues of autumn. Study of such periodic life events dealing with the relations between climate and biological phenomena, is called as Phenology. The BroadGen project is studying the phenology in different ash genotypes to breed dieback tolerant ash which is productive, suitable and adapted to Ireland.
---
Golden Harvest
Maximilian Schughart
Thunderclouds are passing over the land, as the last bits of the spring barley harvest are about to be finished at Teagasc Oak Park. 2022 was an exceptionally good year for spring barley, with some record-breaking yields and an unusual early harvest, although virus and pest pressure was moderate. Though harvest is always a busy time for the whole staff, this year was definitely one to remember.
---
Peeping poppies amidst the gold
Anne Kinsella
This research project, established over two decades ago, is at which an internationally representative database of "typical" farm data and national statistics is at the heart of the network. Agri benchmark in Ireland is represented by Teagasc, the long standing partner in this global network of agricultural economists, advisors and specialists in key sectors of agricultural value chains. The rich database facilitates the in-depth analysis of the impact of changing economic, technological and political framework conditions on farming operations, structures and on agricultural production. This photograph was taken in Germany, June 2022 during the field trip visits. The poppies provided the front drop on the roadside, on the field verges and framed the wind turbines that were frequently present in the countryside backdrop.
---
The honeycomb in your spuds
Daniela Freitas
The EU-funded GlucoMatchMaker project is led by Dr Daniela Freitas, working under the supervision of Dr Andre Brodkorb. This project focuses on the investigation of strategies to attenuate blood sugar levels after a starch-rich meal. The researchers are also collaborating with Dr Laura G. Gómez Mascaraque to better understand how the structure of starchy foods influences their digestion. White potatoes (Solanum tuberosum) grown in Ireland were among the starch-rich foods included in this research. This image, obtained from a slice of raw potato, shows starch grains within their cellular compartments.
---
Previous Winners