Visions of Research
The annual Vision of Research and Innovation image competition invites all Teagasc staff and students to submit digital images created in the course of their work. The aim is to find the most innovative and compelling images showing the range of research and innovation activities taking place across the organisation.
Winners 2020
Vision of Research 2020
Winners of the Vision of Research Competition 2020
---
Overall Winner
Speed up the generations
Dheeraj Rathore
Scientists are continuously pursuing the ways to enhance the genetic gain in crop breeding, but generating new varieties is a lengthy process. One way to accelerate the research is through 'speed breeding', which shortens the breeding cycle by growing plants under LED's for extended photoperiods (plant's daily exposure to light). This significantly reduces the seed-to-seed cycle (generation time) for long-day or day-neutral crops. For example, wheat takes ~6 months in standard 16 hour photoperiod while grown under LED's lights for 22 hour photoperiod this can be achieved in ~ 6 weeks. This pictures illustrates wheat grown under pink LED lights.
---
Blow Me Away
Fiona Hutton
Dandelions play an important role in many ecosystems; they help support pollinator populations and facilitate healthy soils. This photo of a Dandelion Seed Head was taken in an arable biodiversity field margin at Oak Park, Crops Research Centre, Carlow.
---
Droplets
Brian McGuinness
Ireland's cut foliage industry is growing in strength with support from Teagasc. In our Glasshouse facility in Ashtown we have propagated a large number of Eucalyptus varieties to help choose the best suited for the industry needs and the Irish climate. Propagated plants are placed in a tunnel and sprayed with a fine mist of water.
---
Fifty shades of green
Guylain Grange (drone footage by Luis Lopez-Sangil).
Teagasc Johnstown Castle is leading research about Multi-species grasslands in Ireland. Diverse swards have shown to be more productive, less reliant on mineral fertiliser and more resistant to drought. Following these promising results, grazed trials are now going on to test dairy and beef performance. The experiment in the picture is part of LegacyNet, a 20-country international common experiment jointly led by Trinity College, Teagasc and the University of Kiel (Germany). It aims to test the legacy effect of multi-species. By improving soil carbon, nitrogen and biological activity, plant diversity has the potential to sustainably increase productivity and quality of a following crop in rotations.
---
Golden Dusk
Peter Doyle
This image was taking at 9.30 pm on a summer evening during an experimental grazing trial, investigating the effect of sward structure on steer performance (pictured breed: Charolais). Sward structure has an impact on herbage production and quality, and steer intake and growth at pasture. The overall aim of the project is to maximise steer growth from grazed pasture in a 100 % forage-fed beef production system and reduce reliance on concentrates. As there is increasing interest in producing beef from grass forage-only diets.
---
Multispecies Sward Biodiversity
Michelle Liddane and Ciaran Hearn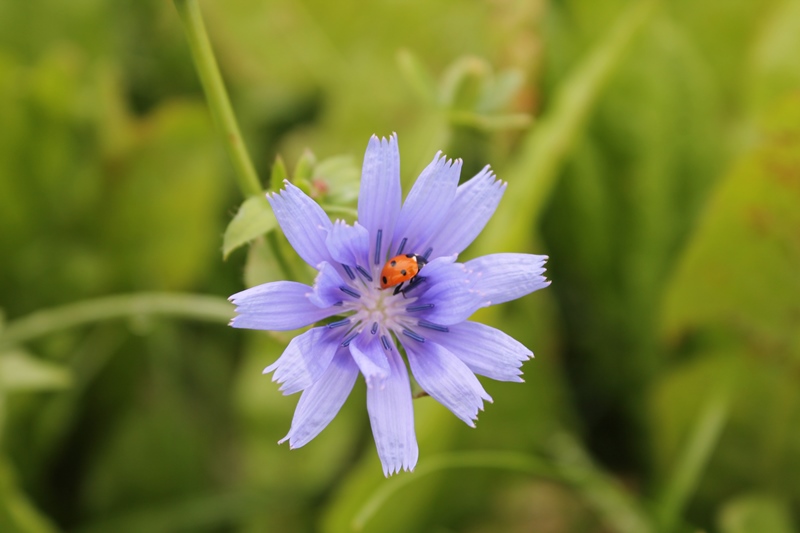 Project overview: Assessment of the agronomic performance of different multispecies swards under various nitrogen application strategies within an intensive bovine grazing regime. Sown species of perennial ryegrass, plantain, chicory, red and white clover are being assessed in various seed mixtures over a 3 year period to ascertain dry matter production, forage quality and species persistence. The rich biodiversity, such as Lady Birds, attracted to the sward is clearly evident on a regular basis.
---
Mushroom
Ankit Singh, Dr. Carloalberto Petti and Dr. Helen Grogan
The estimated farm gate value of the mushroom industry in Ireland was € 120 million in 2019. It is an industry that utilizes waste ingredients (straw, manure) to produce a sustainable plant-based protein with a low carbon footprint. Agaricus bisporus obtain their nutrition from the substrate with the help of various enzymes, whose secretion is genetically regulated and changes with the age of crop. A large amount of substrate remains unutilized at end of harvest which reduces the efficiency of the crop to growers. This project aims to enhance scientific understanding about enzyme secretion and compost utilization by Agaricus bisporus, especially during the later stages of the crop.
---
Naptime
Orla Kinnane
EU PiG is a network of organisations from 13 countries which aims to raise the competitiveness of the European pig industry by linking producers and sharing best practice and innovations, identified through an annual EU PiG Grand Prix contest. There are four key project themes: Health management, Meat quality, Animal welfare and Precision production. This image shows piglets sleeping around the heated floor pad after a nursing bout.
---
Rural Fabric on the Horizon
Anne Kinsella
This Ruralization project, funded by the European Commission under H2020 programme focuses on the renewal of rural generations, jobs and farms. The project aims to develop knowledge and to support policy making in identifying and addressing some of the challenges faced by rural areas. Like the project, the photo encapsulates the different shapes and shades of rural areas and that each area is different whether viewed at ground level or above. Ruralization is about appreciating the uniqueness of each rural region and building on that potential and like the photo which showcases the patchwork quilt of various fabrics viewed as a front drop to the horizon beyond.
---
Seaweed process
Xianglu Zhu
Aquaculture Irish brown seaweed from farm to final product. Irish seaweeds are set to become a food industry staple — in everything from fish and chips to soup and bread. Irish seaweed species such as Ascophyllum nodosom, Alaria esculenta, Fucus vesiculosus have high quality of fibre, protein and polysaccharides that found in common food stuff in daily life
---
To Cheesinfinity and Beyond
Antonio A. Lourenco
As part of the collaboration Between Teagasc and VetmedUni (Austria) in the RL2025 Project LmRNA, samples were collected in the western part of Austria (Vorarlberg), a region characterized by the production of an artisanal hard cheese with protected designation of origin made from raw cow milk exclusively from alpine pastures. The ripening of this cheese can last from three to up to 18 months. This project will allow the study and comparison of the microbiome of the dairy environment across Ireland and Austria dairies.
---
We are what we eat
Daniela Freitas, Laura G. Gómez Mascaraque, André Brodkorb
Daniela Freitas and André Brodkorb from the Food Chemistry and Technology Department in Moorepark are carrying out the first human clinical trial independently led by Teagasc. This research aims to better understand food digestion via the analysis of samples from the participants' ileum (last part of the small intestine). This sample was obtained from the ileum four hours after eating Weetabix. The image clearly shows how the native structure of the endosperm cell walls of wheat can resist digestion in the human digestive tract. It was obtained by Laura G. Gómez Mascaraque using confocal laser scanning microscopy, part of the National Food Imaging Centre in Moorepark.