John Barry
Farm Update July/August 2023 | Farm Update May/June 2023 | Farm Update March/April 2023 | Farm Update January/February 2023
Farm Update November/December 2022 | Farm Update September/October 2022 | Farm Update July/August 2022 | Farm Update June 2022 | Farm Update May 2022 | Farm Update April 2022 | Farm Update March 2022 | Farm Update February 2022 | Farm Update January 2022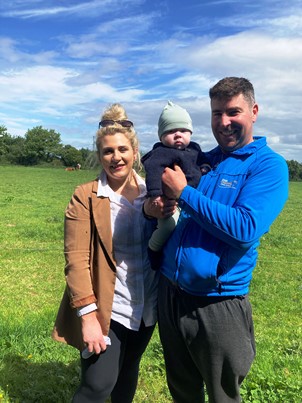 John farms with his father Jim in Newtown, Nenagh, Co. Tipperary. He started off-farm employment with FRS in Spring 2021.
He is farming 72.3Ha in three distinct blocks. The soil is generally dry free draining mineral soils and there is a gradual slope on the farm.
2020 farm organic stocking rate was 165kg N/Ha. John has an 80 cow suckling to store system consisting of 47 spring and 33 autumn calving suckler cows. The males are sold as 18 month store beef. Heifers not retained for breeding are also sold as stores. John uses 70% A.I. (CH, BB, LM, AU, SI bulls). He currently has a 5 star terminal CH stock bull. A.I is used for the first round to breed replacements / quality export type weanlings and then current 5 star terminal CH stock bull is used for the rest of the breeding season.
The farm is all grassland but John put in 2.42Ha spring barley as part of reseeding programme and also to supply straw for bedding/feeding. John is a member of local grass group and is using PBI. John joined the REAP pilot environmental scheme in 2021. The plan is to increase biodiversity within part of the main grazing block (better field margins / planting of additional new hedgerows).
The farm is divided into with 27 divisions with the ability to split individual fields with temporary fencing. There is good housing on the farm and John is currently in the process of erecting an additional 4 bay slatted/creep area shed.
His Teagasc Advisor is Michael Daly.
Breeding Performance
No. of cows: 80
Cow replacement index: 91
Heifer replacement index: 136
Calves per cow per year: 0.96
John's Plan
John's plan is to stay at the same cow numbers but to increase the breeding / breeding efficiency on his farm. He is looking at the possibility of finishing male weanlings at 16 months. Performance at grass will be the main focus area. John plans to grow / utilise more grass in line with soil fertility, and to develop and improve grass measurement with PBI. Finally, John wants to use more protected urea and low emission slurry spreading (Dribble bar attachment purchased in 2021).