Future Beef Newsletter February 2023
Aonghusa Fahy
Proinnsias Creedon - Farm Update | James Skehan - Farm Update | Top Tips for February
---
Top Tips for February
---
Aonghusa Fahy Farmer Profile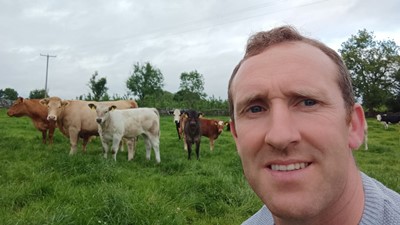 Aonghusa Fahy farms with his wife Olivia and 2 young children in Tullira just outside Ardrahan, Co. Galway. He is part-time farming and is working full-time off farm as a secondary school teacher.
Farm Size;
58ha in 2 main blocks with 22ha in Ardrahan and the remainder 36km away in Tulla, Co. Clare
System;
30 Spring calving cows to store/finishing system.
The sucker herd and calves are kept on the home farm and the progeny are then moved onto the out farm in Tulla for the second season at grass.
Breeding System;
Calving starts in early February. Aonghusa uses AI with a stock bull to mop up. As he is working off-farm, Moo-Heat is used to aid detection along with some family labour.
Soil Type;
The farm in Ardrahan is mostly free draining soil but in one section there is a large proportion of low lying, heavy natured land that is prone to flooding. Much of the land in Tulla is free draining soil with the exception of 2ha of historically reclaimed bog and 4ha of shallow land with some surface rock.
Grazing Infrastructure;
Aonghusa has prioritised and put in place an excellent paddock system on the home farm in Ardrahan. This part of the part is stocked at over 2LU/ha so growing and utilising grass is a major focus throughout the year. Weekly grass measures are taken and Pasturebase is used to help make management decisions.
The grazing infrastructure in Tulla will be improved over the next couple of years.
As the overall farm is not heavily stocked and with most of the land described as dry- Aonghusa aims to get his weanlings out in early February.
Soil Fertility;
Overall, the soil fertility is very good with no lime requirement and 65% of the farm is at P index 3 or 4. On the K side, 87% of the farm is at index 3 or 4.
Slurry is applied using LESS technology in spring.
Main Focus Areas
Improving the overall breeding performance

Calving interval of 8-10 weeks
Calving all heifers at 2 years of age
High maternal replacements

Increasing the output of the farm

Finishing all progeny to slaughter

Incorporation of Clover

To Reduce the fertiliser bill
Splitting large fields in Tulla

Grassland Infrastructure
---
Proinnsias Creedon Farm Update
Review of profit monitor
Proinnsias has already began working to improve his output/LU over the last year. Historically he has bought the calves through local marts at various times during the spring. Last year he sourced some of these from a local farmer, and has arranged to do the same again this year. As well as reducing the time he has to spend buying calves through the mart, there is less transport involved for the calves and is reducing the risk of disease and they are not missing with other cattle. Proinnsias also plans to house these calves separately to anymore that he buys.
Last year, there was a significant amount of by respiratory disease among the calves. They were vaccinated against RSV and Pi3, and Proinnsias began vaccinating them for IBR too. The 2022 born calves were also vaccinated against IBR in the autumn to prevent an outbreak at housing.
There is a set feeding protocol now in place for calves as they arrive on the farm as follows;
Day 1 (pm): Provide ad lib access to warm electrolyte solution
Day 2 (am): 2L of milk replacer (38oC)
Day 2 (pm): 2L of electrolyte solution (38oC)
Day 3 (am): 2L of milk replacer (38oC), plus a handful of concentrates
Day 3 (pm): 2L of electrolyte solution (38oC)
Day 4: Normal feeding schedule, with ad lib concentrates
Some of the calves had a poor thrive over summer, which was noticed as they are weighed regularly on the farm. It turned out to be an issue with acidosis – the smaller calves were receiving almost 70% of their daily intake in a 10 minute feed of ration which caused their stomach pH to drop rapidly. Proinnsias corrected this by splitting the feeds into twice daily and providing a fibre source (straw) to them in their paddocks and it quickly rectified the issue. This knowledge will be carried into this year's season of calf rearing.
Proinnsias is in the process of building a new slatted shed on his farm. He was aware that lying space has been tight on the farm over the last few years and this was reflected in cattle weights over winter; in particular a poor weight gain response from ration being fed to finishing cattle. The new shed will allow him to provide sufficient lying space for cattle (recommended at 2.7m2 for finishing cattle). It also means that he won't have to house cattle in older straw bedded sheds which will reduce labour.
From the changes outlined above, Proinnsias hopes to improve the health and nutrition of cattle on the farm. In turn, this can help reduce his ration costs (€865/ha), mortality on the farm and vet bill (€92/ha). Healthier cattle will also reduce the labour associated with managing sick cattle and will help to increase their daily gains at grass and over the winter period.
As with all farms, every year brings a new set of challenges. However by analysing the farm's profit monitor results it helps to plan areas for improvement to improve the farm's profitability into the future.
---
James Skehan Farm Update
James has two slatted tanks available in the cattle shed for slurry storage. The weanlings and store cattle are housed on one tank, with the cows and calves housed on the other. The shed has 5 bays that measure 15ft7" and the cows are on 14ft6" slats, with the weanlings on 16ft6" slats. Both tanks have a depth of 8ft. In total they have a storage capacity of 112,000 gallons of slurry. However the housed cattle do not fill the tanks over winter as he has more slurry storage available than what he requires. It is estimated that approximately 65,000 gallons of slurry are produced over the winter period.
This year 1,000 gallons of slurry is worth €50 per 1,000 gallons. By switching his slurry spreading method from the splash plate to the dribble bar, James is retaining 3 units of nitrogen for every 1,000 gallons spread which is worth €3.27. Multiplying this across the 65,000 gallons of slurry produced, James will save €212.55 this year alone.
The Org Manure N, P & K Values Oct 2022 is available here.
In accordance with legislation any farm that is stocked greater than 150 kg N/ha from grazing livestock, before exports, is required to spread slurry by low emissions slurry methods, i.e. the dribble bar, trailing shoe or injection system from 1st January 2023. This will become a requirement for farms stocked greater than 130 kg N/ha from 1st January 2024 and from farms stocked over 100 kg N/ha from 1st January 2025. All pig slurry is also to be spread by low emission equpiment since 1st January 2023.
James is stocked <130 kg N/ha and would legally have to spread slurry using low emission equipment from 1st January 2025 anyway, but is very happy with his decision to change methods ahead of this. He employs a contractor to spread slurry for him but TAMS grants have been available for farmers at rates of 40% to 60% to purchase their own.