Future Beef Newsletter March 2023
Shane Keaveney
John Barry - Farm Update | Ger McSweeney - Farm Update | Top Tips for March
Top Tips for March
Shane Keaveney Farmer Profile
Shane and his wife Gráinne
Shane farms full time, with help from his wife Gráinne and 3 children in Granlahan, Ballinlough, Co. Roscommon. He took over the farm in 2014 with 5 saler in-calf heifers and has since grown the suckler herd to 37.
The farm is well stocked at 160kgs/N/ha. The system is simple with all cows calving in February and March. The male calves are finished as under 16 months bull beef. The heifers are sold as forward stores or slaughtered at under 21months of age. The cow type is mainly LM/SA crosses. A terminal CH bull is now used on the mature cows.
Shane farms 27.46Ha which is split into 3 blocks. The main grassland block of 18.13Ha is approximately half a kilometre from the farmyard. Most of the soil on the farm is heavy in nature with a mixture of clay and peat soils.
The main grazing block is well paddocked and Shane is measuring grass regularly on PastureBase. The overall aim is to make high quality silage for his weanlings and to keep high quality grass swards in front of the herd for a long grazing season.
Shane Keaveney March/April 2023 Update
Compact calving - a key focus on this farm
Since 2014, Shane has focused on building a high value, maternal herd by using a Saler bull. His cow type could be described as very functional with plenty of milk and the ability to rear a heavy calf. Last year, the males calves weighed 300kgs at 200days of age while the heifers weighed 280kgs. A CH bull was used last year and thankfully, the calving has gone very well this year.
The breeding performance of his herd is excellent;
Shane believes that having a compact period of less than 10 weeks is a key driver in an efficient, profitable, suckler herd. Compact calving is one of the main metrics in contributing to the excellent breeding performance figures of this herd.
In 2022, all of his cows calved in less than 8 weeks and it will be similar this year. In the video below, Shane outlines how he manages the herd during a busy calving period and also speaks about the main benefits of having a tight calving period for his farming system.
See more on Shane's management to achieve a compact calving period.
John Barry March/April 2023 Update
Prevention is always better than cure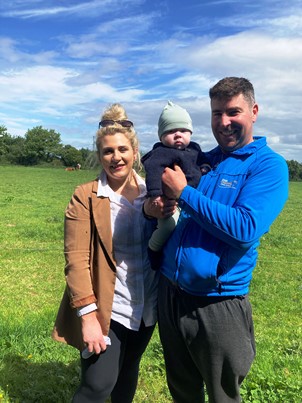 Sarah and John pictured with their son Jack
Vaccinations are a crucial part of John Barry's herd health plan. John is currently in the middle of the calving season so the prevention of respiratory disease in the spring born calves is the main focus. John vaccinates all spring born calves against RSV, Pi3 and Mannheimia haemolytica and IBR
Calf scours were an issue on John's farm, but since he has started a vaccination programme against rotavirus, coronavirus and Ecoli, touch wood things have really improved for John.
But it's now all about the calf at this time of year, we also have to think about next year's calf crop and the breeding season. On the health side, John has to plan his Leptospirosis vaccination protocol- for heifers, this could have to start 10 weeks before the bull can go in.
Read more about John's detailed vaccination plan and see video below for best practice around vaccinating cattle.
Ger McSweeney March/April 2023 Update
Make hay while the sun shines
Ella, Ger and Karen McSweeney
17 yearling heifers were turned out to grass on 1st February this year, a record on Gers farm. They started grazing paddocks with lower covers beside the farmyard, this allowed them to settle and not walk grass into the ground and it also allowed Ger to keep a close eye on them.
Ger is not new to letting cattle out early and he has the confidence to so this as he follows a spring rotation planner. The plan allows Ger to take advantage of good ground conditions this spring and gives the first grazed paddocks time to recover before the second rotation starts in April.
In total Ger has 23.59ha available to graze, his targets are to have 30% (7ha) grazed by 7th March, 60% grazed by 1st April (14.2ha) and have 100% grazed by 11th April. He is now heading into heavier covers and grass is starting to grow, the heifers alone won't meet these targets so cows and calves are being turned out, but how many? Click on the link below to follow Gers plan.
Read more about Ger's spring grazing plans.