Beef Carbon Events
4th European Networking Meeting
The final European networking meeting of Life Beef Carbon was held on Thursday, 9th January, 2020 at the Teagasc Beef Research Centre in Grange, Co. Meath, Ireland. Stakeholders from multiple branches of the beef industry attended the Teagasc organized event along with ministry representatives, scientists and NGO's. The network covered Ireland's and the European Union's current policies for climate change and agriculture, and discussed the possible impact of carbon farming initiatives on greenhouse gas emissions and carbon sequestration. Christine Mueller, from the European Commission, presented new result-based EU schemes for carbon farming and Dr Jean Baptiste Dolle, Chief of Environment at the French Livestock Institute, described emerging climate financing opportunities for the livestock sector. Ireland's agri-food programme for climate and the environment, "Origin Green" was presented by Bord Bia and the activities of Life Beef Carbon were showcased by Teagasc and leading European partners. The main findings of the initiative to date and the obstacles to mitigating carbon emissions on beef farms were discussed. The full talk and presentations from contributors to the network can be accessed by clicking on the titles below.
Agenda
European Climate Change and Agriculture Policy post COP 25
Christine Muller, Policy Officer, DG Climate Action, European Commission
Agriculture and Ireland's National Climate Action Plan 2019
Dale Crammond, Climate Division, Department of Agriculture, Food and the Marine
LIFE BEEF CARBON: Irish, French, Italian and Spanish Beef Carbon Action Plans
Josselin Andurand, IDELE, Sara Care, CREA, Paula Martinez, Asoprovac & Dr. Donal O'Brien, Teagasc
Origin Green: Creating the world's first food sustainability programme
Dr. Eleanor Murphy, Sustainability Manager, Bord Bia
Climate Finance: Supporting farm investments that reduce carbon footprint of beef production
Dr. Jean Baptiste Dolle, Chief of Environment, French Livestock institute, IDELE
---
LIFE BEEF CARBON 3rd EU network
Beef stakeholders, policy makers, academics, non-governmental organizations, and customers from across Europe met on the 20th of June for the third LIFE BEEF CARBON network event. The event was hosted by IDELE in the FIAP Jean Monnet centre in Paris and supported by national and international partners. Attendants were presented the latest European Climate policy for agriculture and the LIFE BEEF CARBON action plans for innovative farms along with new livestock initiatives to reduce carbon emissions and improve sustainability.
For more details regarding the event click here. The final LIFE BEEF CARBON EU network will be in Ireland.
---
2nd LIFE BEEF CARBON European Networking meeting
Spain hosted the second LIFE BEEF CARBON EU network at the CaixaForum in Madrid on the 10th of January 2019. This half day meeting was attended by approximately 100 people and included policymakers, industry experts, and academics from across Europe. It covered the current emissions situation and the latest project results. To read about this event click here.
---
1st LIFE BEEF CARBON European Networking meeting
Italy held the 1st European networking meeting for LIFE BEEF CARBON on the 1st of February at the 2018 Eurocarne in the Fieragricola of Verona. During the meetings discussions, Irish partners, Teagasc and Bord Bia outlined the steps Irish farmers are taking to tackle beef's carbon footprint and the Origin Green approach to evaluate sustainability. Read about the event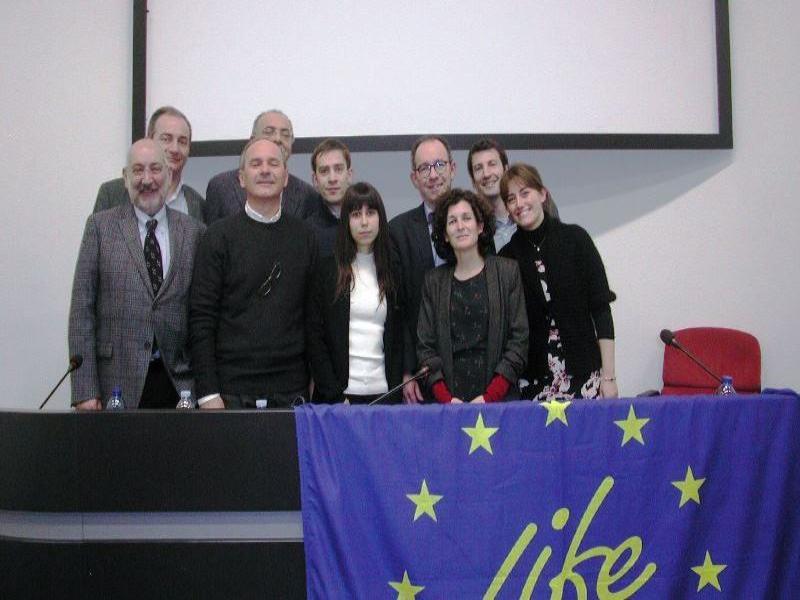 LIFE Beef Carbon National Partners including - Giacomo Pirlo (CREA IT), Luciano Migliorati (CREA IT), Paul Martinez (ASOPROVAC), Matilde Moro (ASOPROVAC), Sara Caré (CREA IT) Donal O'Brien (Teagasc) Jean Baptiste Dollé (IDELE), Josselin Andurand (IDELE)
---
LIFE Beef Carbon at COP 23
At the 2017 UN Climate Change conference (COP 23) in Bonn, Beef Carbon's progress was presented to the EU and French pavilions. Read about the event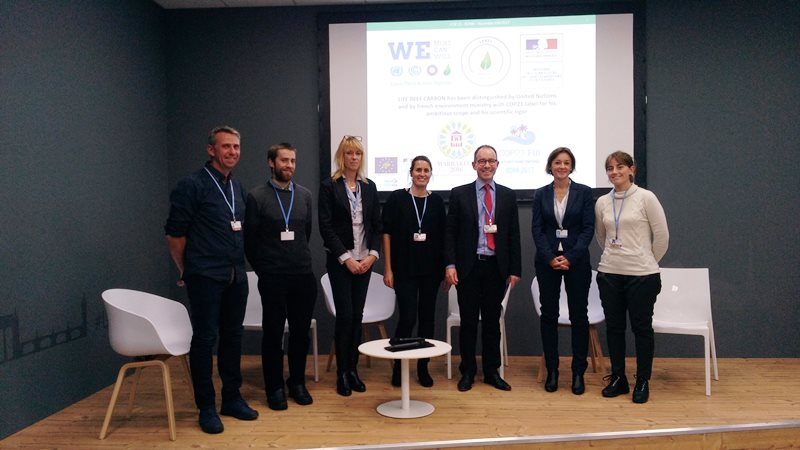 LIFE Beef Carbon COP 23 left to right Yann Bouchard (Chambre d'agriculture Cantal), Donal O'Brien (Teagasc), Katja Klumpp (INRA), Caroline Guinot (Interbev) Jean Baptiste Dollé (IDELE), Anne Mottet (FAO) and Sara Caré (CREA IT).