Teagasc/Kerry Agribusiness Joint Industry Programme
Current farm update:Demonstration Farms Kerry Limerick Group Report 22nd September 2023 (No.27) (pdf)
'Farming for a new decade' is the ninth phase of the Teagasc / Kerry Agribusiness knowledge transfer programme that commenced in 1994. The programme will promote economically, socially and environmentally sustainable dairy farm systems to Kerry Agribusiness suppliers. It will provide a tailored range of activities to engage with Kerry Agribusiness suppliers that are focussed on supporting farmers via advancements in best practice and technology adoption. This new phase of the Teagasc / Kerry Agribusiness joint programme will focus on economic and environmental sustainability of our dairy farm systems.
Objective
The key aim of this programme is to support farmers in implementing changes to deliver on environmental requirements; water quality, agricultural emissions and biodiversity, while also enhancing the financial and social viability of Kerry agribusiness suppliers.
Strong focus will also be placed on nutrient management planning, utilising high yields of grazed pasture, effective use of nitrogen and Economic Breeding Index (EBI) of the herds to optimise productivity.
Overview of Demonstration Farms
Thirty demonstration farms will be geographically spread across the Kerry Agribusiness catchment to represent all Kerry Agribusiness suppliers. The demonstration farms will be subdivided into three groups consisting of 7 'Signpost focus', 8 'Demonstration' and 15 'Support' farms. The programme will run until December 2023. Support farms will champion demand driven events which will require a shorter time commitment of one or two years. The farms in the Heavy Soils Programme will also continue under the Joint Programme. The programme will run until December 2023.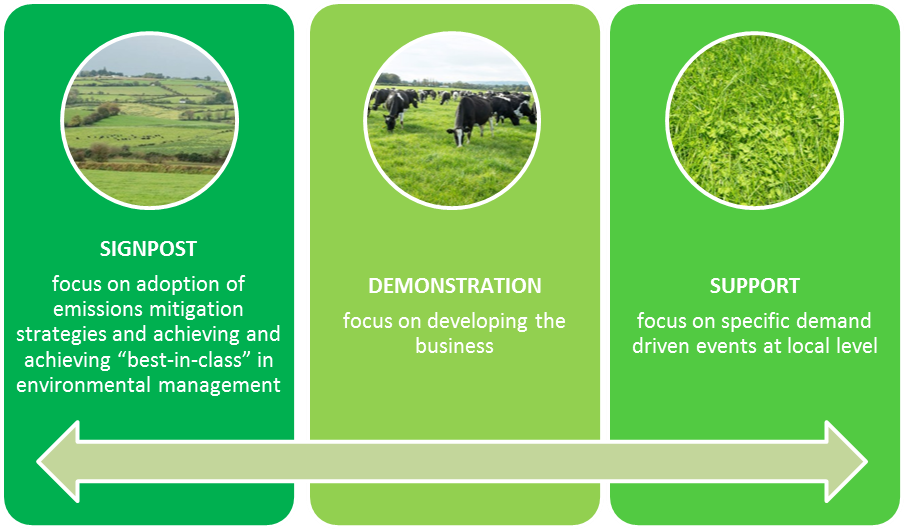 Geographical spread of Signpost and Demonstration farmers across the Kerry Agribusiness catchment.
Farm updates
Updates on grass and milk solids production on each of the Signpost and Demonstration farms are available below - all pdf format
2023