Monitor Farms
Teagasc/KerryAgribusiness Monitor Farms 2016-2019
Adrian Keane Glanballyma Kilflynn Tralee Co Kerry
"When I joined the monitor group, my main focus was breeding to increase milk solids production and grass measurement to increase grass utilisation".
Improving herd genetics from the get go
"Capitalising on high EBI stock was a key business investment"
"Progress can be accelerated, particularly where herd EBI is low"
"Sourcing genuine high EBI stock which generate a high return on investment"
"Breeding improvements were made by purchasing 20 high EBI heifers"
"In their 2nd year, 19 of these heifers calved down again. This helped cull older cows"
Animal performance
Approximately 50% of the herd are first and second lactation
Herd EBI went from €57 in 2016 to €118 in 2019. This was accelerated by the purchase of heifers
Milking platform increased allowing cow numbers increase from 102 in 2016 to 124 in 2019
Milk solids per hectare on the milk platform went from 1009 kg in 2016 to 1246 kg in 2019
Production and value of milk sold
Milk recording data showed a variation in performance in homebred versus high EBI purchased stock.
Milk solids in first lactation was 474 kg and second lactation cows was 481 kg from purchased stock
Milk solids in first lactation was 397 kg's and second lactation cows was 459 kg from homebred stock
Value of milk sold in first lactation was €2163 and second lactation cows was €2195 from purchased stock
Value of milk sold in first lactation was €1806 and second lactation cows was €2085 from homebred stock
---
Dermot O'Connor Lisbane Shanagolden Co Limerick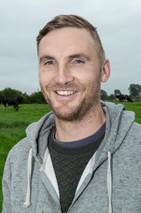 Dermot o Connor is milking 197 cows in Shanagolden Co Limerick. Dermot's objective was "to monitor costs, improve overall financial management and manage my time more effectively".
Dermot's experience
"Provided an opportunity to gain new knowledge, insights into technologies"
Dermot's targets for "a dairy system where the herd calves compactly to grass"
This allows "the farm achieve its full grass production potential"
Dermot chooses for a work life balance as "work can be blocked into different time specific tasks"
To get tasks complete Dermot has "a defined finishing time each evening helps to focus the mind"
Animal performance
197 cows milked on 60 hectares milking block
Stocking rate increased from 2.93 LU/ ha to 3.28 LU/ ha
Herd EBI increased from €105 in 2016 to €155 in 2019
Milk solids sold off the milking platform increased from 1288 kg/ ha in 2016 to 1648 kg/ ha in 2019
Soil fertility focus
Initially, 40% of the farm was optimum for soil fertility and now 60% is optimum
To carry the high stocking rate, Dermot invested in phosphorus, potassium fertiliser and lime
Annual reseeding is complete each year, selecting high Pasture Profit Index grass varieties
Dermot achieves 290 days at grass, with a focus on spring grazing which increases grass grown
Grass growth is recorded each week on PastureBase Ireland, this facilitates grassland decision making
---
Diarmuid Cremin Cottage Gneeveguilla Rathmore Co Kerry
"Increase milk solids per cow by increasing grass production and utilisation and further enhancing the financial resilience of my business"
Grassland management
68 cows milked on a milking block area of 23 ha or a stocking rate of 3 LU/ ha
"Early turnout to set up the farm for the year was a key learning for me"
Grew 14.6 tonnes DM/ ha in 2019 – achieved from investing in lime and P & K build-up fertilisers
Additional spur roadways helped improve grass utilisation in spring and autumn
Financial management on the farm
The key focus in the programme was to achieve a sustainable living from a 68 cow herd
"I learned that cash flow is as important as profit"
"Participation in the programme allowed me to significantly improve my financial management"
Diarmuid budgets to retain 50% of receipts and reviews all spending according to this metric
Participating in Kerry Agribusiness Forward Price Schemes provides income stability for Diarmuid
Herd performance
Herd EBI went from €120 in 2016 to €176 in 2019
Diarmuid has a big emphasis on fertility and milk solids production from an easily maintained cow
Milk solids sold on the milking platform increased from 1165 kg per ha in 2016 to 1414 kg per ha in 2019
Fertility drives milk solids production through a 94% six week calving rate
The herd is mature; cows culled in 2018 averaged 5.7 lactations per cow
---
John Molyneaux Hill Crest House Farrihy Dromcollogher Co Limerick
John milks 97 cows on his farm located outside Broadford Co. Limerick. He operated a stocking rate of 2.70 LU/ ha on the milking platform, grew 14.4 tonne DM/ ha and cows were supplemented with 515 kg of concentrate in 2019.
"My priority was to improve the soil fertility on the farm. P and K levels weren't where I wanted them to be"
Farm productivity
Sold 1335 kg of milk solids per hectare from the milking block in 2019, an increase of 300 kg milk solids per hectare in 2016
Six week calving rate was 89%
Herd EBI increased from €105 in 2016 to €162 in 2019
Operating costs
John increased his investment in soil fertility from €252 per ha in 2014 to €544 in 2018
Average feed cost from 2016-2019 were 3.84 c/l and fertiliser cost were 3.16 c/l for the same period
Using low emission slurry technology (LESS) and Protected Urea
Slurry is applied on the farm using low emission technology by a local contractor
"We are very happy with the grass growth response and the fact that leaf contamination is reduced"
In 2019, over 50% of N fertiliser applied on the farm was in the form of protected-urea
"the 2019 season was our first year using protected-urea and we were very happy with the outcome"
"No negative impact on our three week grass growth cycle and our annual production"
The nitrogen use efficiency figure was 30%, which is well on target for grass based systems
"We now have the farm at index 3 for P and K and our pH is at 6.3 for the whole farm"
---
Mark Clune Drominanov Feakle Co Clare
Mark milks 84 cows in Feakle Co Clare. Mark's objective was to "focus on improving milk solids production from grazed grass with a mature herd".
Herd performance
In 2019 milk solids production was 469 kg per cow.
Milk solids increased from 1291 kg/ ha to 1439 kg/ ha
Herd EBI has increased from €98 in 2016 to €147 in 2019
Mark focused on the fertility sub-index to improve herd maturity, while cow numbers remained static
Cows were bred to have a high genetic potential for butterfat and protein percentages
In 2019, two thirds of the cows were in their third lactation or more
Mark's views on herd maturity
The real impact of focusing on herd fertility is in the extra lifetime production of each cow
Herd maturity drives increased milk solids production
The herd requires less replacement stock
Requiring less replacements "has a positive knock on environmental impact"
For Mark less replacements means "a reduction in the farms carbon footprint"
Grassland Management
84 cows are milked on 28 ha milking block, at a stocking rate of 3 LU/ ha
Reducing concentrate input and increasing grass utilisation was key goal on the farm
Tonnes of grass DM grown increased from 9.1 tonnes per ha in 2017 to 15.1 tonnes per ha in 2019
This was achieved by improving overall soil fertility; P, K and lime
Mark's message
Being involved in the joint programme "inspires you to make improvements"
---
Michael McMahon Kilcarroll Kilrush Co Clare
Michael McMahon milked 86 cows in 2019 on a milking platform of 2.42 LU per ha. Michael had a positive experience of lime application on heavy soil types. Michael feels that keeping an application rate to 1.5 tonnes/acre on the heavier type paddocks negates any risk of softening the surface layer.
Current performance since joining the programme:
"Milk solids sold have increased by 445 kg per ha on the milking block"
Cow numbers increased over four years, while the size of the milking block remained static
The increase in milk solids sold was achieved by improved herd genetics and soil fertility
A key learning for Michael was grassland management and "managing surplus to deficit availability"
"Silage and slurry work is contracted out which gives extra time to manage cows and grass"
Cow Performance:
Herd EBI increased from €86 in 2016 to €132 in 2019
Milk solids sold off the milking platform increased from 739 kg per ha in 2016 to 1184 kg per ha in 2019
Six week calving interval went from 70% in 2016 to 84% in 2019
Herd is remaining very mature with 22 replacement heifers required to maintain a 86 cow herd
Addressing soil fertility and improving grazing infrastructure
Spur roads with multiple access points were installed
All parts of paddocks are no more than 70 meters from a hard road surface
Extra grass is utilised during the shoulders of the year with the use of spur roads
Michael uses the NMP coloured maps to target fields with additional lime or fertilisers required
Lime spread had faster regrowth's, increased palatability and an efficient use of fertilisers
"Manage your farm by doing the simple things right and the rest will fall into place"
---
Padraig Condron Dullas Croom Kilmallock Co Limerick
Padraig Condron milked 168 cows in in 2019. His focus when participating in the programme was "getting to grips with labour efficiency on my farm".
Improvements made on the farm
Padraig focused on grassland management and labour efficiency for the duration of the programme
"Improvement in grazing efficiency has been significant - measuring takes all the guess work out"
Grass measuring as "a great tool to keep quality grass in front of the cows"
"Soil testing and spreading the right fertiliser to match soil deficiencies was a win win"
"Improving labour efficiency on the farm has been crucial"
Labour efficiency on the farm
Measuring and benchmarking labour efficiency was a key objective
Padraig took part in a labour study in conjunction with Teagasc Moorepark
A total of 2043 work hours were recorded which equated to 12.1 hours per cow (Jan-June) in 2019
Total contractor hours were 146 hours for Padraig versus 205 hours for the top 25% in the study
Milking and calf care represented 38% and 26%, respectively, of Padraig's total labour hours from January to June 2019.
Improvements made in herd genetics
Compact calving and improved herd genetics increased milk solids sold
Herd EBI improved from €79 in 2016 to €115 in 2019
Milk solids sold from the milking platform increased from 824 kg/ ha to 1011 kg /ha
6 week calving rate increased from 63% in 2016 to 84% in 2019
Cow numbers increased the stocking rate; 2.14 LU/ ha in 2016 to 2.32 LU/ ha in 2019
"Measuring labour efficiency allows us compare our system to similar scale operations particularly for the busy spring period. Planning the right balance of labour for your circumstances including use of contractors is key to making the business more sustainable".
---
Paudie O'Brien Ballinvarrig Firies Killarney Co Kerry
"My main priority was to improve soil fertility, increase grass production and improve milk solids per cow"
Paudie's experience
"Participation gave me confidence to go farming full-time, push stocking rate and expand cow numbers".
"I gained confidence to go after spring grazing to get more grass into cows- better than any ration I could feed" grass was better than any ration I could feed.
"I started doing grass covers as part of my routine. I now do over 40 grass covers a year."
"Grass grown went from 10.8 t DM/ha of grass in 2016 to 15.7 t DM/ha in 2019. More grass was utilised with help of more spur roads".
Breeding
Herd EBI increased from in 2016 €73 to €133 in 2019
Herd increased from 52 cows in 2016 to 76 cows in 2019
Better breeding was the foundation for greater milk solids production; an additional 358 kg milk solids per hectare was supplied from 2016 to 2019
Produced 1120 kg milk solids per ha in 2019 with 738 kg of concentrates per cow
Compact calving maximised days in milk; 6 week calving rate of 95% and culling of late calvers from the herd
Soil fertility
Focused on getting lime out at every opportunity so that pH was corrected in 90% of paddocks by 2019
Increased use of P fertiliser to replace off-take –some heavy clay paddocks were slow to increase index
More focussed use of slurry & potassium fertiliser to replace K off-takes from silage
Better soil fertility allowed me focus on better nitrogen use efficiency in the mid-season
Farm now responds much quicker when growing conditions are improving
---
Philip Ruttle Fort View Rathkeale Co Limerick
Philip Ruttle milks 80 cows outside Rathkeale Co Limerick. Philip's objective while participating in the programme was "identify areas of investment which gave a high rate of return, improved labour efficiency and ensured my farm business was sustainable".
Learnings from the programme
"The programme has taught me the importance of financial management"
"To focus investments on areas with a high rate of return"
These included areas in "grassland and grazing infrastructure"
Philip learned "the potential that my farm has to be a progressive and sustainable family business"
"Meeting like-minded farmers has shown me the strengths and weaknesses of my farm"
Farm Production from 2016-2019
80 cows are milked on a milking platform of 37.2 ha or 2.15 LU/ ha, up from 1.80 LU/ ha in 2016
Six week calving rate improved from 67% in 2016 to 86% in 2019
Grass walks completed regularly with 12.5 tonnes/ ha grown in 2019
Herd EBI increased from €99 in 2016 to €143 in 2019
Farm Buildings and monitoring cash flow
Over the course of the programme Philip built a 54 cubicle house with additional slurry storage
The cubicle accommodation cost €1200 per cow after the grant was received and is financed over 10 years
Additional calf pens were constructed, which are required to coincide with the compact calving
Philip places a lot of emphasis on monitoring cash flow as a developing farm is cash demanding
E-profit monitor is completed annually used to compare financial performance against other farms
---
Seamus Laffan Knockanea Boher Co Limerick
Seamus is milking 100 cows in Boher Co Limerick. His objective while participating in the programme was "adoption of key technologies that improve farm profitability". When Seamus first joined the programme he milked 70 cows.
Seamus's experience from the programme
"I have learned a lot from my interactions with the other monitor farmers across the region"
Participating in discussing groups "has helped me on my own farm development programme.
"I started grass measuring when I joined the programme. I am now completing over 40 grass walks each year"
Grass walks completed each week are recorded on Pasturebase Ireland
Grass measuring "helps me to ensure there is quality grass in front of my cows at all times"
Farm performance
Seamus milks 100 cows on a milking platform of 34 hectares with a stocking rate of 2.8 LU/ ha
Replacement heifers are reared on outside blocks along with silage harvested
Herd EBI has improved from €60 in 2016 to €121 in 2019
Milk solids sold on the milking platform increased from 1116 kg/ ha in 2016 to 1308 kg/ ha
Limiting the breeding season to 12 weeks reduced the late calvers and increased milk solids sold
Focus on grazing infrastructure
The number of grazing's per paddocks has steadily increased over the duration of the programme
This was achieved by installing extra spur roadways used during difficult grazing conditions
Annual soil testing offers Seamus the opportunity to target fields sub optimal in soil fertility
140 tonne of lime was spread in 2019 along with additional P and K on paddocks requiring attention
Extra roadways and addressing soil fertility has increased the days grazing on the milking platform
---
For further information on above click on:
Heavy Soils Programme Monitor Farms
John Paul Leahy, Upper Athea, Co Limerick
John O'Sullivan, Ballygree,Castleisland,Co Kerry
Donal & Michael Keane, Droumerin, Listowel, Co Kerry
Danny Bermingham, Doonbeg, Co Clare
Sean O'Riordan, Knockenaught, Kiskeam, Co Cork