Turnip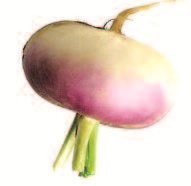 Turnips are a quick growing crop maturing in as little as 6 weeks from sowing. They come in a variety of shapes – flat, round or long – and in a variety of colours – purple, green or white.
It's a versatile crop that can be harvested when small and eaten raw or left to grow in size and cooked; the tops can also be harvested like spring greens from a late summer sowing.
A small sowing should be made about every three to four weeks from March to August in drills 30 cm apart and 2 cm deep. Sow thinly and gradually thin out to 5-15 cm apart.
Start harvesting when they are golf ball sized for salads or grow on to tennis ball size for cooking.
The main problems will stem from attack by cabbage root fly, flea beetle and slugs. Your best bet is to cover the crop with fleece for the first two and a small amount of pellets to keep slugs at bay. As with any quick maturing crop water the crop during dry spells.
Varieties
Oasis, Purple Top Milan, Goldenball, Green Globe, Sweetbell F1
Pests
Flea beetle, cabbage root fly, slugs
Diseases
Downy mildew