Richard Starrett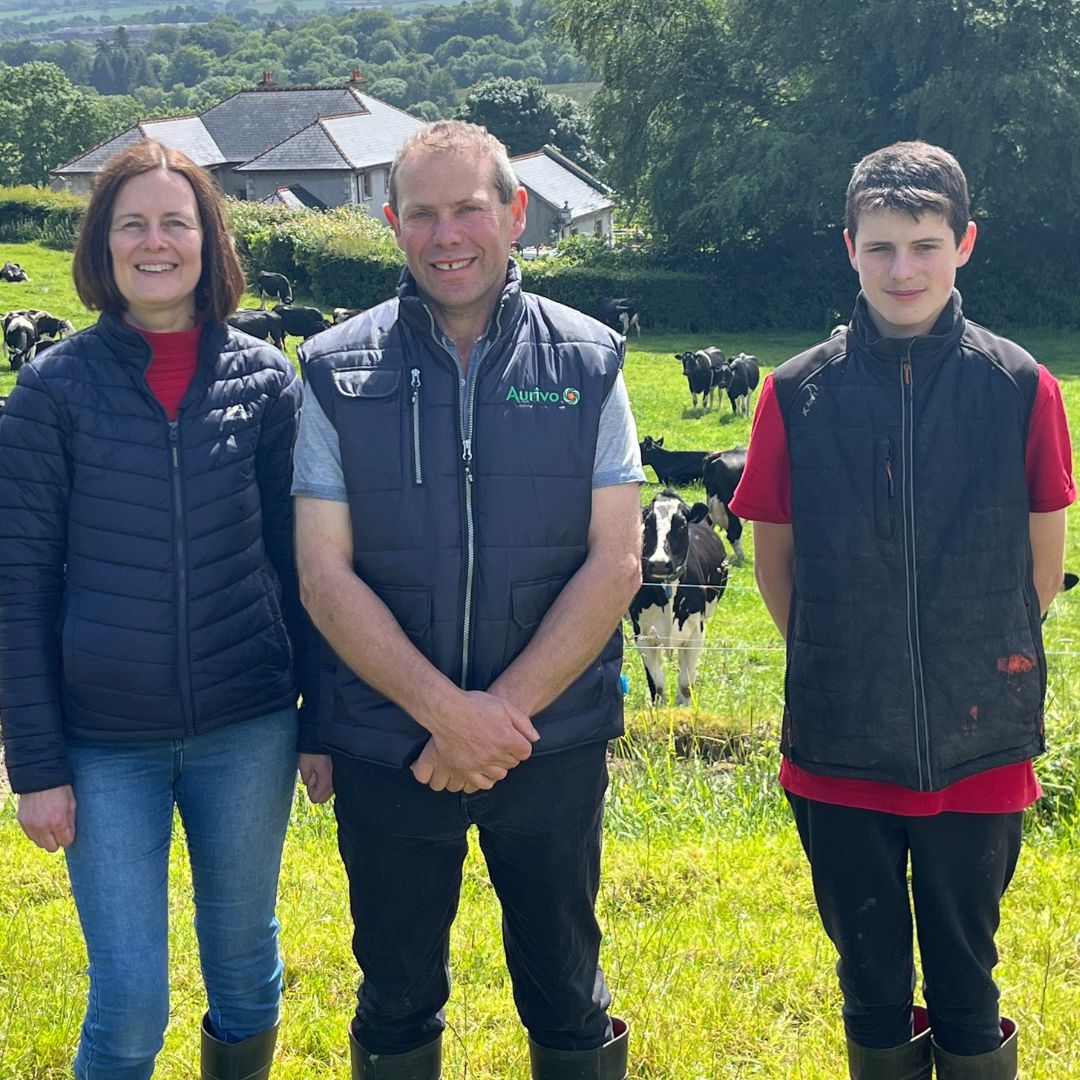 Richard and his wife Wendy farm 68.9ha of south facing, free draining soils in Killendarragh, Lifford, Co. Donegal, with their three young children David, Holly and John. Richard parents, John and Audrey, live alongside the family home. There is one full time labour unit on the farm, and two weekend relief milkers. In 2021 they milked 160 cows. The milking platform consists of 54.33ha and is stocked at 2.9LU/ha. The EBI of the herd is €204, the heifers are €273 and the 2022 calves have an EBI of €271. The 6 week calving rate is 84%. The cows produced 538 kg MS/cow in 2021, and the farm grew 14.6t DM / ha. Facilities on the farm are good with a 21 unit parlour, 205 cubicle spaces and good grazing infrastructure. In February 2017 Richard started using LESS. He then installed solar panels on the roof of the parlour in 2018, and in the spring of 2019 started to use protected urea.
Challenges
Maintaining grass growth while reducing nitrogen applications. Increasing and maintain clover content in swards.
Farm Advisor Conor Maguire, Teagasc, Ballybofey.
Protected Urea
For the last three years Richard has been using protected urea when applying straight nitrogen and has been happy with the results. Richard sees no difference in grass growth in comparison to CAN or Urea when using protected urea.
Animal Health
Richard dung samples young stock so only has to dose for worms when required. Animals are also vaccinated for BVD, Leptospirosis and IBR. Richard has been using selective dry cow therapy for 7-8 years and currently only 16% of the cows get an antibiotic tube at dry-off. The farm also use culture and sensitivity testing to identify bacteria causing mastitis and to detect any resistance that may be developing. Calves are vaccinated for blackleg and given a booster shot at a year old.
Soil Fertility
Richard has put a huge effort into soil fertility in the last five years and seen significant increases in soil fertility in terms of P &K and soil pH. Soil samples are taken every year to monitor soil fertility. Currently 90% of the farm is at index 3 and 4 for phosphorus and potassium. Lime is spread based on the liming plan prepared in the nutrient management plan.
Extended Grazing
Cows usually start grazing in mid-February using on/off grazing. Full time grazing will only start from the end of March. Richard sometimes must rehouse cows, if weather and ground conditions are poor. Cows will graze fulltime up to mid-October and until Mid-November by day.
Clover
Richard does have some clover in swards and has included it in seed mixtures over the last 10 years. In 2021, Richard over sowed clover in paddocks on the milking platform and the plan is to continue to do this in 2022. Richard will have to adopt different management to promote greater clover content in his swards where over sowing has taken place.
Other
Richard has switched all reseeding to min till. All slurry is spread with LESS and has been using it for a number of years and is very happy with the results. This year Richard got his slurry sampled to determine its nutrient value. The slurry was targeted on paddocks with low P & K index's and silage fields.