Newford Herd Update October 2022
The average grade for the 36 heifers slaughtered to date was R - 3 =
Their average liveweight going up the ramp of the lorry was 557 kg
Their average date of birth was the 22nd of February 2021 and their average kill date was the 8th of August 2022 (534 days old on average)
Their average carcase weight was 290 kg and their average kill-out percentage was 52 %
The average sale price per kg received was €5.06/kg
The average sale value was €1,476 per head
Only one heifer out of the 36 sold did not receive the quality payment system in-spec bonus as she graded R = 2 =
The only concentrate feeding the heifers received was at weaning time to comply with the Beef Environmental Efficiency Programme (BEEP-S) and during the short winter housing period of 2021/2022
The heifers consumed roughly 253 kg of concentrates costing approximately €89 per head
These heifers remained at grass after weaning and were housed on the 7th of December at 379 kg liveweight. They remained housed for just 44 days before being turned back out to grass on the 20th of January 2022 weighing 411 kg on average
There are four remaining 2021-born beef heifers and their average weight is 614 kg
These four heifers will be drafted in early November, if not sooner and they have been receiving 3kg of meal since the 1st of September. They are being supplemented with a high energy, 12% crude protein ration costing €410/t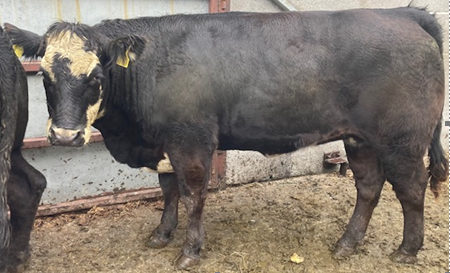 Sire : Laurel 4185
Dam : Second calver Hereford x dairy
Grade : R= 3 +
Price : €1,598 (€4.90 per Kg)
Draft date 7th October 2022 @ 608 Kg live weight
Heifers Comparison Form
2015
2016
2017
2018
2019
2020
2021
2022
Heifers
(Farm Sale)
To date 36 heifers
Conformation Score
R =
R +
R =
-
R -
Fat Score
3 +
4 -
4 -
-
3 =
3 =
3-
3 =
Carcase Weight (kg)
280
296
291
-
299
299
311
290
Live Weight
521
574
560
460
569
570
583
557
Kill Out %
54 %
52 %
52 %
-
53 %
52 %
53 %
52 %
Age (months)
21
20
19
16

20

599 Days

20

609 Days

20

605 Days

Under 18

534 days

Value
€ 1,172
€ 1,176
€ 1,167
€ 1,035
€ 1,117
€ 1,188
€ 1,396
€ 1,467
Price / kg
€ 4.20
€ 3.95
€ 4.01
€ 2.25
€ 3.74
€ 3.95
€ 4.49
€ 5.06
The three teaser bulls were drafted on the 7th of October
The three bulls weighed an average of 668 kg and were on average 20 months of age
They grade on average 0 + / 2 +
They achieved on average €1,640 per bull
The three bulls were bought for the suckler herd before the breeding season for €1,016 (ready to go)
After breeding they were fed ab lid ration with hay and they consumed roughly 850 kg of meal between them costing on average €351 per bull
Live weight @ drafting: 622 kg
Grade: 0 = 3 –
Price : € 1, 502 (€4.50 / kg)
Kill out @ 54 %

Live weight @ drafting: 695 kg
Grade: R - 3 –
Price: € 1, 724 (€4.65 / kg)
Kill out: @ 53 %

Live weight @ drafting: 686 kg
Grade: 0 + 2 =
Price: € 1,693 (€4.50 / kg)
Kill out: @ 55 %
The three vasectomised bulls cost on average €1,016 (ready to go) and were used for 10 weeks to identify heat in one batch of cows (45)
Purchase price of €1,016 minus average sales price €1,640 = €624
The first batch of suckler cows (48) were housed on the 14th of October
19 beef bullocks and three heifers were housed on the 7th of October. All of these animals are receiving 5 kg of a 12 % crude protein ration along with 72% DMD silage
Another 15 beef animals were housed on the 20th of October. These animals were receiving 3 kg of ration at grass and they will be brought up to 5 kg from next Monday the 24th
€624 minus ration feeding €351 = €273 +/-
So Newford Farm had the services of the bull's work for the 10 weeks for free and after doing his work there was a profit also made on the sale of each bull when they were drafted
Weanlings at grass after weaning
The Newford weanlings are over a month weaned and there is no set back to report.
Given the heavy rainfall and fluctuation in temperatures weanlings are being monitored closely for signs of pneumonia.
They are receiving 1 kg of ration (18% Protein) per day at grass.
Feed troughs are in a shed and the weanlings walk up each morning to the shed. This is helping to prevent poaching around feed troughs and is also a good way to monitor weanlings for any issues.
There is 59 male weanlings and 26 female weanlings this year.
The male weanlings will be split into two groups in the coming days for ease of management and to facilitate better grass utilisation in the paddocks which has become challenging due to recent heavy rainfall.
The plan for the male weanlings is to leave them out at grass until mid-November or later. This of course is weather dependant
The 59 male weanlings will be split in to two groups next week for ease of management and to try and maintain a satisfactory level of grass utilisation.
Newford female weanling heifers
There is 26 yearling heifers at grass receiving 1kg concentrate supplementation daily.
The farm is aiming to sell these heifers at 17 -18 months of age similar to the 2021 crop of calves.
The aim is to retain these heifers at grass until early to mid-December.

Gstaad (4366) sired heifer weaned at 330kg (1.27 kg / day) and Kilconnelly Kodaline (BB4492) sired heifer weaned at 335kg (1.35 kg / day).
Seven month old Derryolam Matt ( CH 4436) heifer. Weaned at 322 Kg.
More information on the Newford Herd can be found here