Animal Biotechnology Research Programme
Maintaining healthy cattle and pig herds based on effective disease control in a welfare-friendly environment is vital to ensure international trade, production efficiency, product quality and consumer confidence. Mastitis is the most persistent disease in dairy cattle affecting 30% of cows and carrying an approximate cost of €150-€300 per animal affected.
The Animal Biotechnology Programme aims to improve our understanding of:
clinical and sub-clinical mastitis
host-pathogen relationships
disease pathways
and to explore the therapeutic use of antimicrobials.
Studies in this area will also help to unravel the molecular basis of mastitis resistance within breeds and how best to exploit the potential it offers.
The programme also investigates variations in genes that impact on economically important production traits in livestock. Our genotyping effort has amassed a DNA bank of over 3500 cows plus 200 DNA samples from progeny tested bulls representative of the national dairy population. Genetic variations provide answers to phenotypic differences. As a result it allows producers the opportunity to customize their cattle for certain markets. Cattle with different genetic potentials can be separated at birth and feeding strategies altered accordingly making the whole process more cost effective.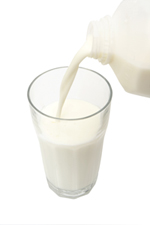 Dairy cows with poor body condition after parturition experience reduced fertility and increased susceptibility to disease. Body condition is highly heritable and current research is focused on unravelling the molecular basis of this complex phenotype.
We are also interested in gene expression patterns influencing porcine prenatal muscle and fat development not only for their effects on pork meat quality and content but also as a model for human fat deposition. Such work has implications for the human baby, as size at birth is associated with later health. Reduced foetal growth predisposes an individual to cardiovascular disease, diabetes and obesity.
Milk bioactives, such as Lactoferrin for disease prevention, and functional food development for weight management also fall within the programme's remit.