Product reformulation in gluten-free research
The demand for gluten-free products is rising steadily, paralleling the apparent or real increase in coeliac disease and other allergic reactions to wheat gluten. Removal of gluten from flour generates major technical problems for bakers with the result that many gluten-free products currently available on the market are of inferior quality. Preliminary research focused on the use of appropriate ingredients (such as starches, gums, protein powders, inulin) and mathematical modelling techniques to improve the quality of gluten-free breads.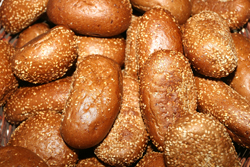 As well as quality issues, gluten-free foods are also characterised by an inferior nutritional quality. They have been reported to contain lower levels of essential nutrients such as B-vitamins, iron and fibre, than wheat products. This is mainly due to the fact that gluten-free products are generally formulated with starches and refined flours, and are not usually fortified. Research at Ashtown has addressed some of the nutritional needs of coeliacs by formulating palatable, gluten-free breads with enhanced nutritional properties. It has focussed on using the pseudocereals amaranth, quinoa and buckwheat to replace wheat in bread formulations. In botanical terms, these are not true cereals; they are dicotyledonous plants as opposed to most cereals (e.g. wheat, rice, barley) which are monocotyledonous. They are referred to as pseudocereals as their seeds resemble those of the true cereals in function and composition. They are, however, gluten-free, and are also rich in nutrients; therefore their incorporation in the gluten-free diet could not only add variety but also improve its nutritional quality. Other characteristics of these seeds, such as their high protein, fibre and mineral content, as well as the presence of many bioactive components, make them attractive alternatives to traditional gluten-free ingredients in the production of high quality, healthy gluten-free products.
In an ongoing collaborative project between Ashtown and Moorepark, researchers are investigating the conditions required to produce a casein-based ingredient with properties similar to gluten in a gluten-free dough system. So far, the researchers have found that under optimum conditions of pH and calcium concentration, casein aggregates and forms a protein network capable of retaining gas in gluten-free dough, similar to wheat dough. This project is still in progress and represents a new approach in this field.
Further Information
Alvarez, L.A., Wijngaard, H., Arendt, E.K. and Gallagher, E. (2010). Polyphenol composition and in vitro antioxidant activity of amaranth, quinoa and buckwheat as affected by sprouting and baking. Food Chemistry, 119 (2): 770-778.
Alvarez, L.A., Arendt, E.K. and Gallagher, E. (2010). Baking properties and microstructure of pseudocereal flours in gluten- free bread formulations. European Food Research and Technology, 230 (3), 437-445.
Alvarez, L.A., Arendt, E.K. and Gallagher, E. (2010). Nutritive value of pseudocereals and their increasing use as functional gluten-free ingredients. Trends in Food Science & Technology, 21 (2) 106-113.
Gallagher, E. (2009). Improving gluten-free bread quality through the application of enzymes. European Journal of Nutraceuticals and Functional Foods, 20 (1): 34-37.
Gallagher, E. (2009) Book: Gluten-free Food Science and Technology. Published by Wiley-Blackwell. ISBN 978-1-4051-5915-9.
Gallagher, E., Gormley, T.R. and Arendt, E.K. (2004) Recent advances in the formulation of gluten-free cereal-based products. Trends in Food Science 15: 18-23.
Contact: Eimear Gallagher