Grass10 Autumn Closing Up for Spring Grass Farm Walks
Grow More – Graze More – Earn More!!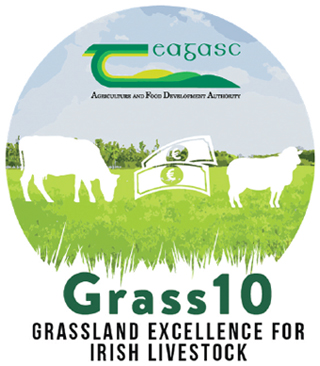 The most important task any farmer will undertake over the next 2 months is to ensure that their farm is closed off properly in order to ensure an adequate supply of grass early next spring.
Many farmers do not realise that the grazing season actually begins in the autumn and that autumn management of grazed grass is the primary factor influencing the supply of grass available in spring on any farm.
Since the 'Closing up of the farm' is so important to the profitability of livestock farming, we have organised on-farm events as part of the Grass10 campaign that will run nationwide throughout early October. These farm walks will focus on helping you ensure your grass fields are closed off right to guarantee a supply of grass next spring on your farm.
All are welcome to attend.
The Grass10 campaign is kindly supported by:
AIB, FBD Insurance, Grassland Agro, Department of Agriculture, Food and the Marine and the Irish Farmers Journal.
Date
Time
Location
Dairy Farm Events
Mon 2 Oct
11am
Noel Hurley, Ballyshonack, Kildorrery, Co. Cork
Tues 3 Oct
11am
Diarmuid Cremin, Gneveeguilla, Rathmore, Co Kerry
Tues 3 Oct
11am
Martin Buckley, Ardragh, Scart, Bantry, Co. Cork
Thurs 5 Oct
11am
Larry Hannon, Fullerscourt, Ballitore, Co. Kildare
Thurs 5 Oct
11am
Seamus Laffan, Knockanea, Boher, Co Limerick
Fri 6 Oct
11am
Mark Clune, Drominanov, Feakle, Co Clare
Fri 6 Oct
11am
Mal Hickey, Brownstown, Navan, Co. Meath
Wed 11 Oct
11am
Mairead & Richard King – Lough Park, Castlepollard, Co. Westmeath
Fri 13 Oct
11am
Shinagh Dairy Farm, Shinagh, Bandon, Co. Cork
Thurs 19 Oct
11am
A & John Casey, Castleshannon, Causeway, Co Kerry
Beef Farm Events
Tues 3 Oct
1pm
Raymond, Dwayne and Gilbert Stanley, Brittas Castle, Thurles, Co. Tipperary
Wed 4 Oct
11am
Calf to Beef Unit, Teagasc Johnstown Castle, Co. Wexford
Thurs 5 Oct
3pm
Tommy Holmes, Tullysleeve, Ballina, Co. Mayo
Tues 10 Oct
1pm
Joe Healy, Dressogue, Athboy, Co. Meath
Tues 10 Oct
11am
Paddy Galvin, Ballinadee, Bandon, Co. Cork
Sheep Farm Events
Tues 17 Oct
2pm
Martin & Lisa Alexander, Ballinacor Cross Roads, Killygordon, Co. Donegal
Thurs 19 Oct
2pm
John Bell, Monaghanstown, Castletown Geoghegan, Co Westmeath
Fri 20 Oct
2pm
John Brady, Tatestown, Navan, Co Meath
Tues 24 Oct
2pm
John Pringle, Killacloran, Aughrim, Co Wicklow
Wed 25 Oct
2pm
John Large, Gortnahoe, Thurles, Co. Tipperary
Tues 31 Oct
2pm
Michael Doyle, Glenranny, Boolavogue, Ferns, Enniscorthy, Co.Wexford