13 January 2022
Getting ready for calving
With calving underway or starting in the coming weeks on suckler farms, it can be a stressful time. What can you do in preparation to reduce stress at one of the busiest times of the year? Catherine Egan, Teagasc Beef Specialist has some tips
At this stage cows are scanned. Use your scan results to know what dates your cows are calving. Prepare a list in order of due dates, paying particular attention to any cows carrying twins, as they may calve earlier.
It is important to have fit but not fat cows/heifers. If their condition needs to be adjusted up or down, ensure that this is done six weeks before calving.
Ensure that you are feeding a recommended pre-calving mineral high in magnesium, phosphorous, selenium and iodine for at least six weeks pre calving. This will ensure that the cow will calve easier and have a more vigorous calf. Talk to your vet about any specific deficiencies on your farm.
Ensure that all your cows' vaccinations are up to date and given within the correct time period so that adequate antibodies are in the colostrum.
Check your calving sheds and equipment. Ensure the calving cameras are working, you have a working calving jack and the calving pen and gates are working.
Clean and lime slats – this will help to keep cows clean. Dirty cows will lead to scours and joint ill in calves.
Lime and disinfect calving pens and ensure that they are well bedded with clean, dry straw. Clean and disinfect pens between each use.
In the video below Seán Doorley and Seán McMahon of Teagasc go through a Pre-calving checklist outlining the essentials needed on the farm before that first cow calves
Use a calving checklist to ensure you have all you need in advance e.g., gloves, spare calving ropes, stomach tube, Milton, lubricant, iodine. The Calving Checklist (PDF) here can be printed off and used.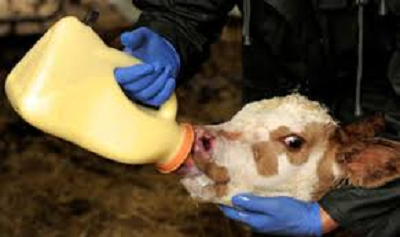 Have fresh frozen colostrum on farm. If possible, take some colostrum from the first couple of calved cows and freeze it. This colostrum will have antibodies from earlier vaccinations and other diseases present on your farm. See Teagasc/AHI video on 123 Colostrum Management
Think safety. Ensure that pens and gates are working properly, have good lighting in your sheds, always have an escape route, carry your phone in an accessible pocket, and know your Eircode.
Get top tips in the Beef Edge podcast below with Catherine Egan & Tommy the Vet
For more episodes and information go to the Beef Edge show page.
---
The Teagasc Beef Specialists issue an article on a topic of interest to Suckler and Beef farmers every Wednesday here on Teagasc Daily. Find more on Teagasc Beef here Teagasc provides a Local Advisory and Education service to farmers. Find your local Teagasc office here