25 June 2021
Green Acres GrowthWatch in Kildare & Tipperary
James Fitzgerald and Seán Cummins, Programme Advisors to the Green Acres farms offer some timely advice on grassland management and share the current grassland management plans of two of the programmes farmers; Peter Byrne and JP Hammersley.
The Advice
In drier areas of the country, a slowdown in grass growth has been seen of late. Soil moisture deficits are reaching 60mm in areas of the east coast, at which point grass growth is substantially restricted. In other areas of the country soil moisture deficits of 30-50mm are leading to the onset of more mild grass growth restrictions, with growth rates unrestricted in areas with heavier soil or lesser soil moisture deficits.
For all farms the goalposts in grassland management remain the same:
Maintain rotation length at 20-21 days
Keep average farm cover above 500kg DM/ha
Aim to graze swards which are 8-10cm in height and graze down to 4cm
In areas where growth is reduced and looking likely to remain reduced over the coming week, supplementation may be needed with meal or silage in the paddock to hold rotation length at 20-21 days. Topping of swards after grazing should be stopped in order to retain as much moisture in the grass plant and in the ground as possible until rain returns.
In areas where growth is unrestricted, cutting and baling of surplus grass is the more likely management requirement in order to keep the swards from getting out of control or rotation length from getting too long.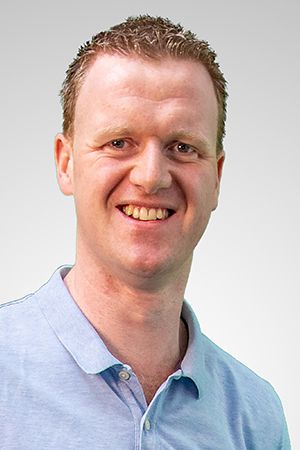 Peter Byrne JP Hammersley
Farmer Focus: Peter Byrne - Castledermot, Co. Kildare
Growth: 42kg DM/ha/day
Demand: 43kg DM/ha/day
Farm cover: 526kg DM/ha
Stocking rate: 4.42LU/ha
Days ahead: 12
Growth has slowed over the past week from 95kg DM/ha/day last week to 42kg DM/ha/day this week with a lack of rainfall being the reason for this. A small amount of rain fell yesterday which should help reduce the moisture stress on grass, but management will have to be focussed around protecting grass covers until better grass growth rates are recorded.
I am continuing to spread fertiliser on the grazing ground with 20 units of CAN+S spread on this rotation. I would be happy to spread protected urea only for the fact that I am finding it hard to source locally.
A total of 115 bales have been gathered into the yard in the form of surplus bales to compliment the 1st cut pit of grass silage. The 10 bales harvested from 2 paddocks earlier this week will be the last harvested for a while until better grass growth rates are seen.
Farmer Focus: JP Hammersley - Lattin, Co. Tipperary
Growth: 36kg DM/ha/day
Demand: 46kg DM/ha/day
Farm cover: 690kg DM/ha
Stocking rate: 3.72LU/ha
Days ahead: 15
Growth rates have been relatively strong over the past couple of weeks. And, on account of this, I made the decision to remove a number of paddocks for surplus bales, with a total of 80 bales taken from the grazing platform last week. This has slowed growth rates slightly this week – back to 36kg DM/ha/day – but our farm cover is still strong at 690kg DM/ha.
Although the farm here got more rain than it needed here at the start of the year, a little drop now would help grass growth rates recover over the coming weeks. Our heaviest cover on the farm is just over 1,500kg DM/ha and as this paddock is under low-input permanent pasture under the GLAS scheme, I have no option but to graze it. This paddock is being strip grazed, as topping is not an option on this ground until July 1.
Maintaining grass quality has been a challenge on account of grass entering its reproductive phase and throwing up seed heads. By acting early with surplus bales should be available in the next rotation.
In terms of fertiliser, clover has been stitched into a lot of the paddocks here over recent years. Some of the paddocks have a nice proportion of clover present and with the weather conditions currently, we will sit tight on fertiliser applications on some of this ground to see will the clover deliver in terms of organic nitrogen. I'm finding that it's not until the second year after clover has been stitched that you really see it starting to make an appearance in the sward and with a target of maintaining pre-grazing covers at 1,200kg DM/ha now until the end of the season, I'm hopeful that it will make a noticeable contribution to grass growth.
The first batch of third-season steers have also been drafted over recent weeks, averaging 330kg carcasses. Further bunches will be drafted for slaughter over the next week or two. This will help to reduce demand and allow us to free up some ground for reseeding later in the month, with a plan to reseed 12ac over the coming weeks.
If you liked this Growthwatch article you might like to keep up with the weekly Growthwatch articles from the Teagasc Green Acres Calf to Beef team here on Teagasc Daily. You might also like to read the first issue (June) of the Teagasc Green Acres Calf to Beef e-Newsletter here. The Teagasc Green Acres Calf to Beef e-Newsletter will issue fortnightly and you can read it here each fortnight on Teagasc Daily.
To find out more about the Green Acres Calf to Beef Programme click here https://www.teagasc.ie/animals/beef/demonstration-farms/green-acres-calf-to-beef/