16 November 2020
Newford Notes - Week of 9th November 2020
The suckler cows at Newford had an extended month at grass in 2020 compared to previous years. Michael Fagan,Technician of the Newford Suckler Demonstration Farm in Athenry, gives an update on Autumn Farm Sales 2020 and a summary of the feed and management of the various animal groups on farm.
Finishing Beef Bullocks
14 beef bullocks, all of which met QPS spec, were slaughtered on the 5th of November
The average grade for the 14 bullocks was R = 3 -
The average liveweight going up the ramp of the lorry was 636 kg
The average carcase weight was 341kg and the kill-out percentage was 54%
The average sale price was € 1,341
The 14 bullocks were on average 20 months of age
Meal feeding started at grass on the 4th of September
These bullocks were housed on the 2nd of October (34 days before slaughter)
The finishing diet was ad lib silage and 6 kg concentrates
The 14 bullocks consumed on average 316 kg of a 12 % coarse ration over a feeding period of nine weeks
The concentrates cost on average per bullock for the nine weeks was €79
The below table outlines farm sales to-date in 2020 for Newford Farm
The remaining 20 bullocks were also housed on the 2nd October
They are receiving 6 kg concentrates along with ad-lib silage
Feeding is split with 3 kg of a high-energy 12% protein content coarse ration offered in the morning and another 3 kg in the evening
The bullocks have had their tail's and back's clipped to keep animals cooler with temperatures currently relatively high. It also keeps the animal cleaner and helps to avoid contamination at slaughter
Those 20 bullocks were weighed on the 2nd of November and the average liveweight was recorded at 623 kg.
They were also treated for lice on the same day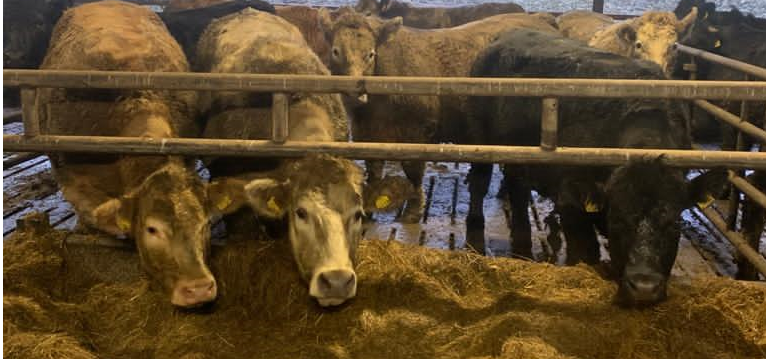 Finishing Beef Heifers
The remaining 22 beef heifers were housed on the 20th of October
Their average weight on the 2nd of November was 557 kg
They are receiving 5 kg concentrates along with ad lib silage
Suckler Cows
All the suckler cows had an extended month at grass compared to previous years
This was achieved by the farm building a good autumn grass wedge and favourable grazing conditions. This will also ease the pressure on silage supplies
The cows were housed at different times during the month of October
All the cows will be body condition scored in the next few days and penned according to BCS. Any low BCS cows will be fed concentrates to improve condition well in advance of calving.
Cows are being offered 68% DMD silage ad lib and also have access to mineral buckets
Weanlings
All weanlings are receiving 2 kg of a high-energy, 18% protein ration and good-quality silage offered ad lib. There are no health issues to report.
Newford Farm produced a video titled ""19 month old beef heifers sold off grass". Watch below
Key recommendations for this week
Watch weanlings closely for pneumonia and coccidiosis
Keep mineral buckets topped up for cows
Order dosing for housed animals