04 October 2021
Teagasc Green Acres Programme returns to live action
The first on-farm live open day of the Teagasc Green Acres Calf to Beef Programme took place on September 29 on the farm of JP Hammersley in Lattin, Co. Tipperary. Alan Dillon and Seán Cummins, Teagasc Green Acres report here on the detail of the day's success.
While the Green Acres programme and other Teagasc initiatives have held numerous online events during the various Covid19 inflicted lockdowns, it was agreed on the day that nothing compares to being back in the fields from a social and a learning point of view.
The focus on the day was to work through the various stages of the animal's life on a calf to beef unit - from feeding and health management at the arrival stage right through to the decision making stage of when to slaughter the steer at 21, 24 or 28 months.
The other main areas covered were the important factor of profitability which demonstrated a turnaround of between €600-700 from before JP started the programme in 2019, when the farm made a net loss of €200/ha excluding direct payments, to a predicted net profit of between €450-600/ha in 2021 excluding payments - a net increase of around €20,000 from production for the farm.
Seamus Kearney, Teagasc Signpost Programme speaks on environmental issues
The issues of environmental improvements and the future direction of travel regarding our climate change obligations on farm was discussed by Seamus Kearney from the Teagasc Signpost Programme and Eleanor Murphy of Bord Bia.
Focusing on detail
The first area of discussion on the day was the management of dairy-beef calves from arrival to the end of the first housing period.
In terms of improvements in performance, this is an area where JP has excelled by surpassing or hitting the targets are every step of the process. The ability to do so stems from JP's strict focus on detail.
It was outlined on the day how animal performance has improved since JP first joined the Teagasc Green Acres Programme – with the weights once being achieved at turnout at the start of the second grazing season now being achieved four months early at housing in November.
Seán Cummins, Teagasc Green Acres advisor addresses the attendees at JP Hammersley's farm walk
To quantify where the farm now stands, turnout weights in the spring of 2021 were 34kg ahead of the target of 320kg, driven by higher than targeted daily liveweight gains.
This improved performance on farm comes from a strict focus on doing things correctly from day one, with a specific focus on making sure a healthy calf is sourced, fed adequately, health is protected and grassland management and supplementation strategies are correct.
With all calves sourced from one local dairy farm, JP is at a strong starting point, as he knows a healthy calf, after receiving adequate volumes of colostrum, arrives on his farm and will perform once the correct management practices are implemented.
Arriving at an average age of 21 days, the calves are offered milk replacer and concentrates up until approximately 50 days of age, at which point calves are gradually weaned off milk feeding, once a target weight of 85-90kg has been achieved.
Michael Daly, Teagasc Advisor speaks on weanling winter nutrition
Through the use of sheltered paddocks and calf shelters, calves are moved outdoors once weather conditions allow and continue to receive concentrate supplementation at a rate of 1kg/head/day up until mid-June. At this point, the lightest calves in the group are removed and continue to be offered concentrates, while heavier animals are moved onto a grass only diet.
To ensure animal performance is maximised, JP offers these animals fresh grass daily through the use of a strip wire and paddock grazing system.
Keeping animals healthy during this period also plays a key role in the farm's ability to surpass target weights. A vaccination programme is implemented for pneumonia and clostridial diseases, while dosing decisions are based on the use of faecal egg count tests and physical symptoms of lungworm infection.
Grassland – the driver of calf to beef system performance
Local Teagasc advisor to the farm Joe Hand, along with Seán Cooney, explained how JP makes the best use of grass on his farm.
Over the past number of years, the Lattin native has focused on improving soil fertility. Soil samples are completed every two years to ensure that a targeted programme can be implemented for the correction of soil pH, phosphorous and potassium levels.
Actions taken to improve soil fertility:
100% of soils are at optimum levels for soil pH after implementing a liming programme.
Lower P and K index ground is targeted with slurry and compound fertiliser applications.
Nutrient management plan completed for the farm – 18:6:12, 10:10:20 and MOP used to correct soil P and K indexes.
3t of MOP spread in 2021, a further 1.5t to be spread this year.
Majority of straight N spread in the form of protected urea (83% of straight applications)
LESS slurry spreading techniques used.
With this focus on fertility, along with the introduction of a reseeding programme, the farm has grown 9.4t DM/ha so far this year.
Joe Hand, Teagasc Advisor talks about grazing infrastructure on the farm
One of the earliest steps completed on the farm was the installation of a 45 paddock grazing system and this has not only contributed to excellent levels of grass utilisation, it's a big labour saver, as the host farm explained, as animals can be moved from paddock to paddock relatively easily or back to the yard for management tasks over a series of farm roadways at ease.
Plans for closing on the farm were also discussed on the day, with a target of having 60% of the farm closed by November 5 – allowing a sufficient rest period and providing grass for next spring to facilitate and early turnout.
Finishing plans
Teagasc Green Acres Programme Manager, Alan Dillon, outlined the finishing strategy being implemented on the farm, which is a split between 50% of animals being slaughtered off grass at 22 months before housing in the second winter, while the remainder will be carried to beef of grass next June at 28 months.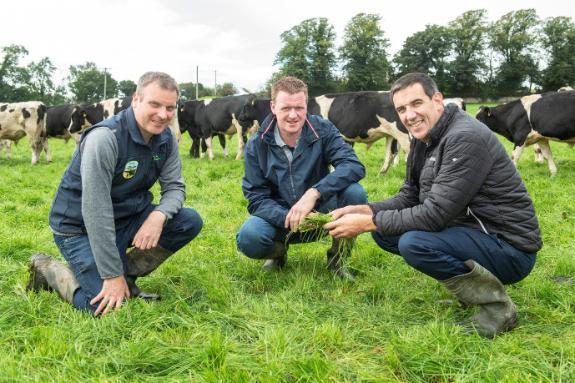 Alan Dillon, Teagasc Beef Specialist with JP Hammersley, host farmer and Pearse Kelly, Teagasc Head of Teagasc Drystock KT
With impressive levels of livestock performance being achieved, cumulating with 2020-born steers weighing an average of 498kg in early July, Alan noted that a target of at least 300kg carcasses has been set for the steers to be slaughtered in November. These steers are currently being supplemented with 4kg of concentrate at grass and drafting will begin over the next number of weeks.
The cattle destined for the summer kill will be offered a silage-only diet over the winter months and will be turned back out to grass and slaughtered next June, with a targeted carcass output of 340-350kg.
Changes in the way in which animals are marketed off farm were also discussed. At the starting point in the programme, all animals were returned to grass. Now, due to the appropriate actions being taken at farm level, an earlier finish for a proportion of animals can be achieved. The reduction in slaughter age, as outlined in the table below, did not come at a cost to carcass weight, while meal usage has also been managed to an average of 626kg for steers destined for slaughter at 22 months and 286kg for those returning to grass for a third season.
Changes in slaughter performance on JP Hammersley's farm
To view more from the walk itself see Green Acres Farm Walk - JP Hammersley
Upcoming Teagasc Green Acres event
The Teagasc Green Acres Programme will host a second farm walk on Irvine Allen's farm in Mount Temple, Co. Westmeath, on Tuesday, October 5 at 2pm. Those wishing to attend are asked to pre-register with Teagasc Tullamore on 057-9321405.
The staff on the Teagasc Green Acres Calf to Beef Programme would like to extend their thanks to staff members in Teagasc Tipperary and Westmeath and Offaly for their assistance with both events.