12 January 2023
Spring sown winter wheat
The Teagasc harvest report published in November 2022 predicted that approximately 55,000 ha which indicates that there is possibly some winter wheat seed still in bags on farms. While there were some limited opportunities to drill in late November most of this seed is likely to be still on farm.
Spring sown winter wheat is not a new phenomenon but the rationale for sowing winter wheat varieties needs to be carefully assessed, before you commit.
In previous years where these crops were sown up until mid to late February with faster developing varieties drilled last, however current varieties available now would not be considered to be fast developing so the latest date for drilling should be mid-February. Crops drilled later than this have more often than not yielded poorly and given the current cost of inputs will not leave a margin. Only seed treated with Latitude dressing should really be considered, as the Latitude will have a negative effect on germination if the seed is stored until next autumn. Possibly the only other case where growers should persist is where historically spring barley has not performed well in certain fields or if grass weeds such as sterile brome are an issue. Don't forget there is no three crop rule in 2023 so growers can grow any crop they wish.
Where growers do plant winter wheat varieties in the coming weeks there are a couple of tips that growers should follow in order to increase the chance of the crop leaving a margin;
These crops will be slower to develop and you will not be able to speed up development using nitrogen fertilisers.
Treat crops as a spring wheat crop and adjust fertiliser rates accordingly.
Crops are generally more prone to mildew than septoria so adjust your fungicide programmes to suit.
Crow damage can often be quite significant in these early drilled crops.
These crops will be ready to harvest sometime in September so consider putting these fields in for the Straw Incorporation Scheme (SIM) when filling in your BISS application.
Where grass weeds are a problem there are opportunities to control them in wheat crops that aren't available in spring barley.
Only fields that have high yield potential should be considered given the costs of inputs in 2023.
The financial risks are much higher this year compared to previous years where winter wheat was drilled in spring so it should only really be done this year if there is no alternative.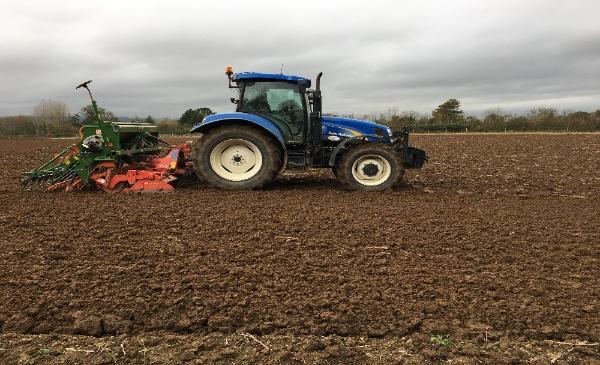 Drilling winter wheat in spring is risky in 2023
Tidying up issues in Winter Crops.
Given the limited opportunities to complete the spraying programme before Christmas some work still needs to be completed. Weed control has still to be carried out on some crops with some winter oilseed rape crops still to receive their main herbicide application but beware that Kerb or Astrokerb must be applied by the end of January. Many winter barley crops are now in the mid tillering stage and so most of the traditional autumn herbicides are now not an option many have a latest application date of GS24, grass weeds control at this stage will be poor. Winter wheat crops still have options for weed control where grasses are an issue.
Aphid populations so far seem to be quite low so applications of insecticides would appear not to be needed. However in previous years, trials have shown responses to January applications of insecticides where none were applied in the autumn, where there was an autumn application a second insecticide will not give increased control. High risk sites are most likely to give a response.
Light leaf spot is a disease that can spread very quickly in winter oilseed rape crops if left untreated, now is a good time to start to take leaf samples to see if there are any infections especially if no fungicide was applied in autumn.