08 February 2021
Choosing a concentrate for freshly calved dairy cows at grass
Joe Patton, Dairy Specialist outlines the nutritional requirements of the freshly calved dairy cow while at grass. He gives examples of two good quality spring rations and discusses ingredients and their inclusion rates. Joe advises using high energy ingredients and offering high quality feed
Cow Requirement
Freshly calved cows have a requirement for high levels of energy, protein and minerals in the diet. Feed intake will be low just after calving so it is important that feed offered is high in quality.
Total daily intake will be around 11-12kg in the days after calving, rising steadily by 1.0 to 1.2kg per week for around 1 month after calving and by 0.5kg per week after that until peak at 8-10 weeks post calving.
Milk yield rises faster than intake after calving resulting in a period during which the animal loses body condition to support milk production. This loss must be controlled to less than 0.5 BCS units in total. However, feeding too much concentrate to prevent this may increase the risk of digestive upsets and result in substitution of concentrate for forage in the diet, increasing feed costs.
The aim instead is to provide plenty (at least 11-13kg DM) of high quality forage, primarily as grazed grass, with high quality silage fed to fill gaps in forage intake if needed. Concentrate is fed to supplement the nutrient deficits; feeding rates with grass in the diet will be 3-6kg depending on the circumstances on the farm.
Sample Spring Rations
Below are example specifications for good quality spring rations for situations where
grass can be offered twice daily most days post calving and
grass is offered at least once daily post calving but there may be period of indoor feeding needed.
These are for illustration purposes only. Individual ingredients will vary depending on supplier however the principle of using high energy ingredients should be followed.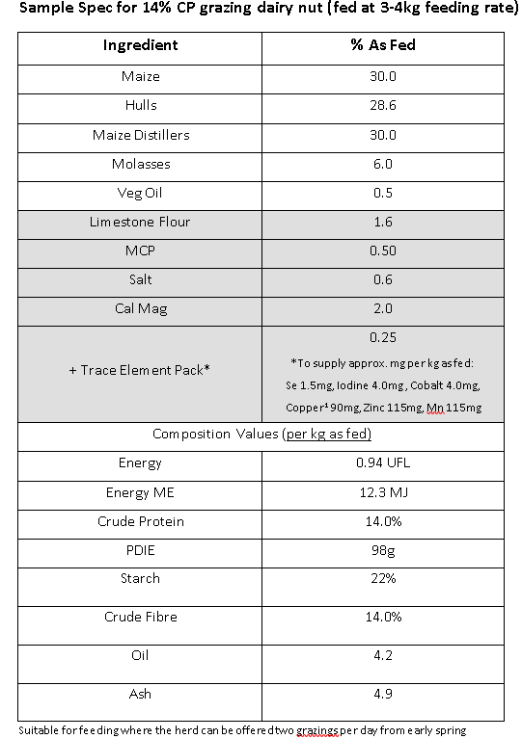 In summary
High energy (UFL) content and good quality protein sources in both rations
Ingredients outline:

Cereal 1/3 , Digestible Fibre 1/3, Protein sources 1/3
Minerals to balance

This could be maize/hulls/distillers or barley/beet pulp/distillers

Protein source split between distillers and soya to change the protein content

The energy sources are cereal and digestible fibre which can be fermented for rumen microbial growth; this will improve milk solids yield and percentages
Wheat and citrus pulp are not really suitable at large inclusions for early grazing rations as they are rapidly fermentable, which increases risk of low rumen pH
Some fat inclusion is beneficial. However, lower quality rations may include higher fat/oil content to boost energy value on paper but this may a less suitable energy source for dairy cows.
The 14% CP ration is very suitable for herd that usually get a high inclusion of grass in the first rotation- e.g. 2x grazings most days with occasional housing on individual days
The 16% CP ration may be more relevant for herds that may feed silage for longer e.g. heavy soils farms (Suitable for feeding where the herd may be limited to 1 grazing per day at times in early spring)
Minerals to include a trace element pack plus Calcium, Phosphorus and salt sources for early lactation cows.
Where a history of copper mineral issues and/or mineral antagonists (Cu:Molybdenum ratio <1.5, Sulphur >0.3%) have been identified, up to 30% of total copper should be included as a more bioavailable (organic) form
Cal Mag inclusion will be to achieve 60g of total intake. Up to 1.7 times this can be fed over short periods without causing scours etc. For example, a 3kg nut could be fed at 5kg for a few days if cows had to be housed.
Ingredients will be listed in order of inclusion rate on labels. Rations with a lot of ingredients and/or high added oil tend to be lower quality. Feed ingredients listed after molasses and mineral products will have low inclusions. e.g. soya listed after limestone flour will have a low inclusion
Reducing crude protein content results is a better balance of energy and protein in grazing rations. With high soya prices this year, it is also a means of reducing cost per tonne fed. Nonetheless, the protein source should be of good quality.
For further information on Nutrition of the Dairy Cow click here