22 July 2020
Review of Ballyhaise heifer rearing unit at grass
For the last two years Ballyhaise Research Farm have been running a dedicated replacement heifer rearing unit which consists of a 10ha grazing block. This year there is 31 calves and 21 maiden heifers on this block. Martina Gormley, Teagasc Dairy Specialist tells us more.
Calves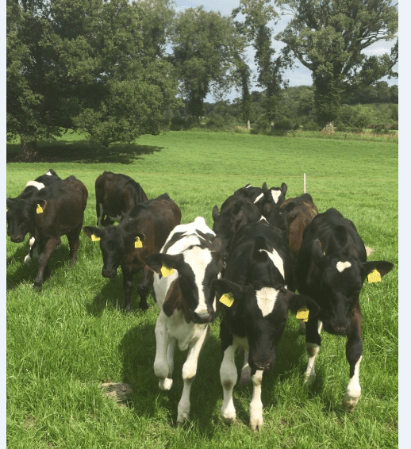 The first bunch of replacement calves went to grass on the 15th May and the second bunch on the 1st June. The weight at which calves are weaned is 85kg. Calves were given an ivermectin for worms two weeks post turnout. As summer calf scour syndrome was an issue last year, this year calves were turned out to a paddock that had just been cut for silage with headlands of 5 ft wide left uncut plus 1.5kg concentrates and straw. Speaking with Noel Prunty Teagasc Ballyhaise, this has certainly helped reduce scours at grass and from the 1st of July weighing, the calves have gained 0.82kg/day since birth. However calves are still being fed concentrates as they are not yet fully out of the woods in relation to this scour syndrome.
75% of the block was cut in two stages for silage in May and a futher 50% taken out in June/ July. This practice is working well from a parasite control point view. Fertiliser is spread once per month and the majority of paddocks cut for silage were 3,000kg/dm/ha and received 30 units of Nitrogen. After this year it will be clear where the balance is between making silage for the unit and the most appropriate stocking rate.
Maiden heifers
The 21 maiden heifers were fixed time AI'd with sexed semen on the 7th May. Conventional semen was used for the 2nd and 3rd serves. 60% held to the first serve.
The first wormer of the year was given in early June. The decision was made to wait until one month of breeding was done before giving this injection. Results from the weighing at the end of June showed these heifers were on average 386kg and average daily gain since the last weighing was 0.91kg/day. Average daily gain from birth to the end of June was 0.76 kg/day.
Plan for the next few weeks
Continue to grass measure weekly and take out surplus paddocks for silage
Weigh calves on the 1st August and make decision on meal feeding
Faecal egg sample calves to see when they need the next wormer
Give IBR booster to calves in August
Scan the maiden heifers end of August