05 July 2021
The Starrett Family Dairy Farm
In 2020, the Starrett family was awarded the top prize in the NDC & Kerrygold Quality Milk Awards. On Tuesday 29th June last, Richard and Wendy Starrett hosted this year's National Milk Quality Farm Walk as a webinar and social media takeover. You can watch it all back here.
(Main photo above: Richard Starrett, his wife Wendy, and their three children David, Holly and John.)
The broadcast was produced by Teagasc, with the support of Aurivo Co-Op, the National Dairy Council and Ornua, celebrated the excellence of Irish dairy farming highlighted annually by the awards.
Download the Starrett Family Dairy Farm Factsheet here (PDF)
Watch the event recording, moderated by QMA Judge Jack Kennedy of the Irish Farmer's Journal, which took place at on the Starrett farm, here below
Introduction
Richard Starrett and his wife Wendy farm in Killendarragh, Lifford, Co Donegal with their three children David (10), Holly (8) and John (4). Richard parents, John and Audrey, live alongside the family home. In 2020 the family was awarded the top prize in the NDC & Kerrygold Quality Milk Awards. The farm comprises of a spring calving dairy herd and they are supplying Aurivo Co-Op.
Richard took over the farm in 1994 when his father availed of the early retirement scheme. The herd at the time comprised of approx.70 cows. The herd has gradually expanded over the years and the Starrett family are currently milking 160 cows. Over the years Richard has focused on perfecting the basics and has put a huge emphasis on grassland management and herd breeding, using the top EBI bulls to produce high quality milk.
The farm currently consists of 64 hectares, made up of owned and leased land. The milking platform is 54 hectares. The overall farm stocking rate is 2.45 LU/ha and the milking platform stocking rate is 2.9 LU/ha. The heifer calves are contract reared off farm after weaning. Half of the 1–2-year-old heifers are also contact reared with the other half reared at home.
Carbon navigator, E-profit monitor, milk recording reports and bacterial culture and antibiotic sensitivity testing are all tools that are used for decision making.
Environmental Measures
Richard believes sustainability is the biggest and most important aspect of farming and is focused on improving the sustainability of his farm. Follow this link to read more about some of the environmental measures that Richard carries out on farm Environmental Measures
Watch the short video clip below in which Richard talks about environment measures on farm
Grassland and sustainable soil fertility
Richard often outlines how "sustainability is the biggest and most important aspect of farming". Grassland management has been a huge focus for the Starrett family, particularly since Richard took over management of the farm. It has been a key element of driving stock performance and milk quality on the farm. Grass growth is managed in a paddock grazing system. Grass is measured weekly. In high growth periods the paddocks ahead of the cows are measured mid-week to ensure that cows are entering paddocks at the target pre grazing height. A grass wedge is produced on PastureBase and Richard finds the PastureBase app particularly useful in the day to day management of grass.
In 2020 34 grass covers were measured on the farm. The total dry matter produced on the farm was 13.9t DM/ha. This was made up of 11t DM/ha of grazing grass and 2.9t DM/ha from surplus bales. Grazing began on the 6th of March 2020 and finished on the 14th of November 2020, a total of 253 days at grass for the year. Peak growth for the full block was achieved on the 27th of June 2020 when an average growth rate of 101 kg DM/ha per day was recorded on the farm. Richard has his own subsoiler on farm and soil is aerated as required. The poorest performing fields are identified through PastureBase and are targeted for reseeding on an annual basis.
There are a number of reseeding methods used on the farm including conventional plough and min till/direct drill. Sustainable grass growth is achieved across the farm using soil fertility tools such as soil sampling, nutrient management planning and use of slurry and protected urea. Richard maximises the proportion of grass in the diet of his milking cows and improved soil fertility and grassland management has allowed for a targeted concentrate input over the years.
Animal Health, calf rearing and animal welfare
There has always been a strong focus on animal health and welfare on the Starrett farm. This starts with suitable animal housing and infrastructure. Good ventilation, natural light and clean cubicle beds are key to promoting good health and cow comfort. Sufficient space in collecting yards, exit yards and in housing also adds to cow comfort and welfare. Combining these factors all help to promote longevity in the herd and the average lactation number of all the cows in the herd is currently 4 with the replacement rate at 14%. Calves have access to outdoors from birth, weather permitting.
Richard works closely with his local veterinary practitioner to compile a herd health plan for the farm, which is updated accordingly. Below is a snapshot of the vaccination programme on the farm which highlights Richard's attitude of "prevention is better than cure".
| Vaccination | Timing |
| --- | --- |
| Bovine Viral Diarrhoea (BVD) | End of March/April (6 wk pre breeding) |
| Leptospirosis ( Lepto) | Same time |
| Infectious Boine Rhintracheitis (IBR) | June/ Start of Dec (housing) |
| Selective Dry Cow Treatment | At dry off |
The farm is equipped with sufficient cubicle and feed space for all cows in the herd. In 2019, a new collecting yard was built to improve cow flow at milking time. In 2021 the parlour was upgraded to include milk meters, ACR's, an automatic dump line and pivot bailing system.
The Starrett's built their calf shed to the south east side of the farm which allows for excellent ventilation and airflow. This promotes good calf health and reduces the risk of pneumonia. The automatic calf feeder greatly reduces labour input and reduces stress on calves at feeding also.
Watch the short video clip below in which Richard talks about calf rearing on farm
Labour
Richard and Wendy both work full time on the farm and David is their fulltime employed farm worker. Richard always emphasises the point that good labour is a vital element in the success of the farm and he is very lucky to have good labour input. Richard also employs casual relief milkers every second weekend. In the spring, Richard engages an agricultural college student seeking professional work experience. Often these students prove to be an excellent asset to the system, particularly in the busy spring period, and they sometimes return as relief milkers after their work experience is finished. Follow this link Labour to read more about the Labour setup on the Starrett family farm.
Herd breeding and performance
When Richard took over the running of the farm, he was a member of a Teagasc discussion group facilitated by then local adviser Seamus Culhane. There was a strong emphasis on EBI and breeding within this group. This has had a long-lasting effect on the quality of genetics and success of breeding in the Starrett herd. Richard attributes his farm's success to his breeding strategy and focus on genetic merit over the years.
Below is a table from Richard's current herd of cows and young stock. The table outlines his current herd EBI. A big focus is placed on milk, fertility and health sub-indices. The breakdown of the milk sub index is also very important. Richard does not strive for massive kgs of milk, instead he is looking for high percentages of fat and protein.
Richard's Herd
National Average
Richard's Herd
Position Nationally
Herd EBI
€199
€124
Top 1%
Herd Milk
€67
€39
Top 2%
Herd Fertility
€82
€58
Top 2%
2020 Calves EBI
€227
€164
Top 4%
2021 Calves EBI
€273
€180
Top 2%
Richard uses the ICBF Sire Advice tool to help select sires for the herd each year. The cows are ranked on high and low kgs of milk, fat and protein percentage and then suitable sires selected. The Sire Advice tool (see 2021 summary below) also alerts users to inbreeding issues.

Watch the short video clip below in which Richard talks about breeding & genetics on farm
Expansion and quality milk production
The following table details the annual milk volume and composition for the Starrett farm between 2014 and 2020.Milk solids produced per cow has increased by 161 kg per cow over the period. This was achieved through a range of factors including quota abolition, improved genetics, grassland management and targeted inputs of concentrates/bales in poor weather conditions.
| Year | Litres/cow | KG/MS/Cow | Butterfat | Protein | Lactose | SCC | TBC |
| --- | --- | --- | --- | --- | --- | --- | --- |
| 2014 | 5391 | 433 | 4.18 | 3.62 | 4.85 | 136 | 14 |
| 2015 | 5692 | 476 | 4.35 | 3.77 | 4.86 | 104 | 15 |
| 2016 | 5808 | 493 | 4.46 | 3.77 | 4.85 | 109 | 14 |
| 2017 | 6031 | 506 | 4.35 | 3.8 | 4.87 | 149 | 14 |
| 2018 | 6574 | 557 | 4.41 | 3.82 | 4.79 | 135 | 9 |
| 2019 | 6513 | 564 | 4.41 | 3.9 | 4.75 | 129 | 9 |
| 2020 | 6837 | 594 | 4.52 | 3.92 | 4.74 | 134 | 8 |
| 2021 YTD | | | | | | | |
Cows were milk recorded five times in 2020. This is an excellent measure to aid in identifying cows suitable for selective dry cow therapy, removal of cows from the bulk tank and culling. Chlorine free detergent has been adopted across the milking plant. Richard is using an approved product and is following the recommended routine as per advice from the product manufacturer.
Selective dry cow therapy (SDCT) has been carried out on farm since 2017. Richard selects cows for SDCT based on milk recording results. Richard selects cows for this drying off method if they have a SCC of less than 150,000 cells/mL and no clinical signs of mastitis. Gloves are worn at every milking. The cow's teats are cleaned where necessary and checked for mastitis. After milking, the cows are teat sprayed before exiting the parlour. The cows are milked in a 21 unit Dairymaster parlour. ACR's along with a well laid out collecting yard and exit yards make the milking process very seamless for both the cows and the workers.
Farm roadways and yards are maintained in a clean state. The collecting yards and exits yards are scraped and washed down daily.
Watch the short video clip below in which Richard talks about milk quality on farm
Technology on the farm
Richard has installed a number of technologies in the milking parlour including
ACRs
backing gates with a bell indicator as it moves
a camera in the pit that allows him to keep an eye on the dairy whilst milking in case of a tank overflow or milk leakage
a recently installed cluster flush system that automatically cleans and disinfects each cluster between individual cow milkings
Richard uses a backlatch on the paddock gates, an automatic calf feeder to rear his calves and has adopted the MOO monitor's technology for his cows to record fertility and herd health. The monitors are connected to his Kingswood package on his phone and laptop. Richard also uses PastureBase as his grassland measurement and management tool. Click on this link Technology on the farm to see full details
Virtual Farm Tour
Please take your time to have a look around the farm of Richard Starrett. Due to Covid-19 restrictions, the Starrett's were unable to host a traditional farm walk on their farm so we have created a virtual tour so that you can walk around the farm in your own time. As you look around keep an eye out for the video interviews at various locations around the tour where Richard explains some of the key design elements of the farm. View the virtual farm tour here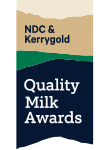 Check out The Starrett Family Dairy Farm for more information