26 October 2021
Are your Climate Actions for October on track?
Are your Climate Actions for October on track? If not you can act now to apply lime, start closing paddocks, check out your carbon footprint for your farm, check your soil maps and apply K to low index soils or start taking soil samples and manage your hedges to allow some thorn saplings to grow.

Climate Actions for October
Closing paddocks | Soil Sampling | Lime | Hedge cutting advice | How Big is Your Carbon Footprint?
Closing Paddocks
The most important task any dairy farmer will undertake over the next two months is to ensure that the farm is closed up correctly. You need to plan the last rotation to ensure an adequate supply of grass early next year.
Soil Sampling
The results of a soil analysis are only as good as the sample on which it is based. To give reliable advice, a soil sample must be representative of the area sampled and be taken to a uniform depth (10cm).
The principle of soil analysis is to determine the average nutrient status of an area and to give a measure of the available nutrients in the soil. A sample normally consists of 0.25 – 0.5 kg of soil and this is taken to represent the entire sampling area or field.
Find out more about taking a soil sample here
Lime
Now is the ideal time to apply lime to correct soil pH on mineral soils. Lime will bring many benefits from increasing the availability of soil nutrients (N, P, K & S) to improving soil structure (aeration & drainage). Soils maintained at a soil pH 6.3 to 6.5 will release up to 70kg N/ha/year from soil organic N reserves. This will help reduce chemical fertiliser nitrogen (N) bills on farms by approximately €70/ha/year. Lime will increase the availability of soil phosphorus (P) and is the first step to improving / building soil P levels cost effectively. Maintaining the optimum soil pH will in addition increase the response to applied N, P & K in either organic manures such as cattle slurry / FYM and N, or bag fertilisers such as 10-10-20 / 18-6-12 etc.
Over the coming days/weeks check soil test results and apply lime to fields based on lime recommendations. Target fields with the lowest soil pH first and apply lime where the opportunity presents for example after grazing paddocks, 2nd / 3rd cut grass silage or at reseeding time. Soils maintained at the optimum soil pH 6.3 will grow approximately 10 to 15% extra grass during the growing season. Ground limestone is the cheapest and most cost effective tool to control soil acidity in the long term. Apply a maximum of 7.5t/ha (3t/ac) ground limestone in a single application.
Hedge cutting advice
What Teagasc advise farmers on hedge cutting depends on the hedge type. Firstly, any escaped hedges which have grown up into a line of trees – Teagasc advise to side trim only and not to top. Secondly for any hedges that have been topped, Teagasc advise to let them grow up to a height of 1.5m or up to the height the hedge cutter can reach. And also it is advised to leave a thorn sapling in each hedge to grow to a thorn tree. For farmers in Derogation that means one in every 300 m.
Dairy farmer Tony Mullins, Ballybeg, Mitchelstown, farms with his wife Noelle. They avail of the Nitrates Derogation and rear all calves to beef along with dairy replacements. Tony likes hedges on the farm. They are a great source of shelter for animals – shelter for the birds, a food source and nesting habitat for birds and small mammals that live in the hedges.
They are important for water in times of heavy rainfall – they slow down the flow of water, and a good source of food in the autumn for the birds with all the berries. Tony has always had a keen interest in managing his own hedges.
Tony's hedges are like our shop window- to have our farm aesthetically pleasing is important, and the consumer is looking for biodiversity and sustainability. Tony thinks that going forward, that's the way we'll have to manage our hedges.
How Big is Your Carbon Footprint?
In order to reduce the carbon emissions on your farm, you need to know what the carbon emissions are for your farm. The starting point for many people (54,000 farmers) will be their Bord Bia Farmer Feedback Report.
After each audit, all certified dairy and beef farmers receive a Farmer Feedback Report from Bord Bia with their farm's carbon footprint. The carbon footprint is the ratio of total greenhouse gas emissions (GHG) to total outputs of the farm enterprise.
The carbon footprint is measured as kg CO2 equivalents per kg of unit output. The unit output for dairy is kg fat and protein corrected milk (FPCM) and kg live weight gain for beef.
Your most recent carbon footprint is displayed on the first page of the report, alongside your previous audit result (where available), and the typical carbon footprint of farms within your category.
To view, you will need your herd number and the pin given at your last audit. (Call the Bord Bia Helpdesk on 01 5240410 if you need to retrieve your pin.)
QR code to access the website
To see more detail on all of the October Climate Actions check out Signpost Climate Actions for October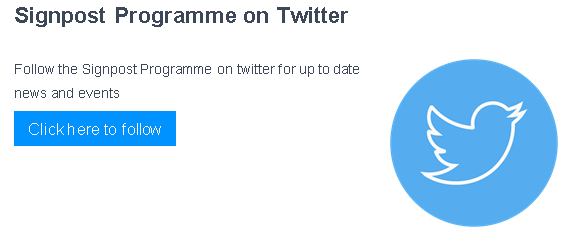 Signpost Newsletter Subscription
Subscribe to our newsletter and stay updated on what The Signpost Programme is doing to lead climate action by Irish farmers and their transition towards more sustainable farming systems
Find out all about the Signpost Programme here