17 January 2022
Teagasc Signpost Programme Newsletter January 2022
In this month's newsletter, Minister McConalogue explains the Climate Action Plan and what it means for Agriculture. We have our monthly climate actions, a video with timely advice for spring nutrient management for 2022 and an article on laying new hedges. We also provide 2 decision support tools
Issue 7 - January 2022
Also in this newsletter we provide you with 2 decision support tools this month – a checklist of actions to reduce GHG emissions on dairy and beef farms. We profile some Signpost farms. Our research update looks at the slurry additives work at Johnstown Castle. While on the Environment Edge podcast Cathal Somers and Deirdre Glynn interview Mark Plunkett on how can we become more efficient in 2022 in order to maintain grass production?
And Michael Hennessey interviews Signpost Tillage Farmer, Tom Tierney, Kildare.
We need your help with a survey on the Effectiveness of Information Messaging for Farmers
Climate Actions for January
Each month, we will present climate actions that farmers can take to reduce gaseous emissions. These actions will be practical and timely. See below climate actions for the month of January.
Click here to read the Climate Actions for January
Spring Nutrient Advice for 2022
John Bergin, Teagasc Dairy Adviser, Mullinavat, Kilkenny discusses ways to reduce reliance on chemical nitrogen in 2022. Watch the video below.
Decision Support Tools
Climate change is perhaps the greatest challenge facing the world right now. Farmers can be a part of the solution! What are you doing on your farm to reduce greenhouse gas (GHG) emissions? Have you thought about the climate actions that you can take in the future to reduce emissions?
Meet four more of the Signpost Farmers
Planting new hedges
New hedges are a valuable asset on a farm, leaving a positive legacy for the next generation. In this article, Catherine Keena, Teagasc Countryside Managment Specialist took us through the steps to take and options available when when thinking of planting a new hedge.
Click here to read the article
Research Update
There is an on-going research programme into slurry amendments at storage and landspreading phases in order to reduce environmental losses from these sources. Initially, the programme focused on water quality, in particular incidental nutrient (in the form of phosphorus) losses following slurry application to grassland. However, in recent years the focus shifted towards gaseous emissions, in particular ammonia, where manure management (housing, storage, landspreading) is responsible for nearly 80% of all emissions. In this month's research update, we get an insight into the slurry additives work by Dominika Krol at Johnstown Castle
Click here to view the research update
The Environment Edge Podcast
On the latest episode of The Environment Edge podcast, Mark Plunkett discusses nutrient management in 2022 to maintain grass growth. Mark will also discuss the key role that protected urea will play in the fertiliser programme.
The Tillage Edge Podcast
Tom Tierney, a farmer in North Kildare, who converted to a direct drill system six years ago, and Ivan Whitten, his Teagasc advisor, join Michael Hennessy on this week's Tillage Edge podcast to discuss Tom's farming system and how sustainability is at the core of all his decisions.
Survey on the Effectiveness of Information Messaging for Farmers
Livestock Farmers
We need your opinion on how to improve information for farmers. Participate in a short survey and win one of 30 €50 gift cards! Teagasc and NUI Galway are conducting a survey to seek farmers' opinions on how to improve information messages on best agricultural practices. The survey also assesses environmental attitudes and farm practices. The survey takes around 8 minutes to complete. Your opinion is very important to the success of this study and we thank you for taking the time to complete the survey.
Click here to complete the survey
The Signpost Programme is a collaborative partnership of farmers, industry and State Agencies, working together for climate action.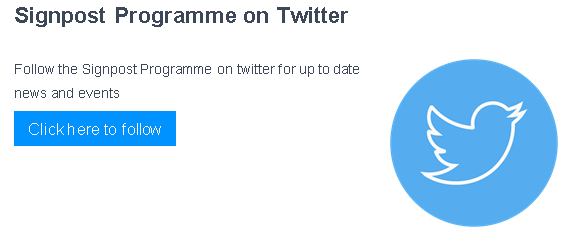 A friend or colleague can subscribe to this e-newsletter by clicking the subscribe button below

The Teagasc Signpost Programme e-Newsletter will issue monthly and you can read it here each month on on Teagasc Daily.