22 July 2022
Forest Genetic Resources Trust (FGRT)
In 2018 the Forest Genetic Resources Trust (FGRT) was established to carry on improvement work on oak, ash, sycamore, birch, cherry, Spanish chestnut and walnut plus selection, progeny testing and seed orchards. Teagasc is a member of FGRT and carries out the birch and alder improvement work
Oliver Sheridan, Research Officer, Teagasc Forestry Development Department, brings us this insight into the Forest Genetic Resources Trust (FGRT) and the important role that Teagasc plays, as a member, in collaborating with the Forest Genetic Resources Trust (FGRT).
Background
Arising from the Royal Forestry Society's symposium on Tree Breeding and Improvement, at Edgbaston, UK, 1991, a small group of people decided to initiate work on ash. The British Hardwood Improvement Programme (BHIP) was formed.
Ireland joined the group in 1998 and the following year a new constitution was adopted establishing the British and Irish Hardwoods Improvement Programme (BIHIP). The objective of this programme was to improve the quality and productivity of a selected number of broadleaved species namely, oak, ash, sycamore, birch, cherry, Spanish chestnut and walnut in Britain and Ireland. The programme operated through individual species working groups.
Work progressed with all aspects of the BIHIP programme i.e. plus tree selections for a number of species, particularly ash, sweet chestnut and sycamore, monitoring progeny/breeding seedling seed orchards in oak, ash and cherry and seed production from clonal silver birch indoor seed orchards.
In 2008, the British and Irish Hardwoods Trust was established in Ireland. The main purpose of the Trust was to raise funds to finance their work into the future. A similar trust existed in Britain for a number of years.
In 2011 BIHIP rebranded as Future Trees Trust (FTT). Their mission: to use research to make sure the next generation of broadleaved trees will deliver all the environmental, social and economic benefits that they possibly can. FTT have trial sites across the UK, monitoring replicated progeny trials established with seed from plus trees, to test the performance of the parents across many environments.
Forest Genetic Resources Trust (FGRT)
From 2018 FTT confined their activities to the UK, and as a result FGRT was established to carry on the work of the British and Irish Hardwoods Trust/Future Trees Trust in Ireland. Their aim is to continue close links with FTT UK, and continue to include oak, sweet chestnut and sycamore selection and progeny testing and seed orchards.
Role of Teagasc
While Teagasc is a member of FGRT and collaborates with other interested organisations, the birch and alder improvement work has been carried out by Teagasc. Teagasc have a qualified downy birch and alder seed orchard and a number of downy birch field trials have been established to test this material. A silver birch indoor seed orchard has also been established at the Teagasc headquarters in Oak Park, Co. Carlow. Likewise, Teagasc leads the research programme for selecting tolerant/resistant ash and a number of trial plots to assess this material have been established. Teagasc will continue to collaborate with FGRT and support their work.
FGRT Objectives
To support and commission research into tree improvement, with an emphasis on broadleaved species, to promote economic value, genetic diversity and species resilience, producing trees with good vigour and timber quality, with the aim of deploying improved material for the conservation of forest genetic resources and forestry practice throughout the island of Ireland.
Promote and support actions and studies which would facilitate the in situ and ex situ conservation of forest genetic resources and its mobilisation into production where appropriate.
To advance knowledge of the importance of forest genetic resources and the development of technologies to aid tree breeding and the rapid multiplication of improved material in the context of climate change and threats of pests and diseases affecting the sustainable management of forests in the island of Ireland.
To encourage collaboration in the island of Ireland and beyond for new research and better understanding of tree improvement and forest genetic resources to help documenting information on genetic diversity, reproductive material and its identification and utilisation.
To promote the benefits and utilisation/of improved forest genetic resources among forestry stakeholders and public.
FGRT Trustees
There are four trustees
Eugene Hendrick
Gerry Douglas
John Fennessy and
Rodrigo Olave
Their role:
Develop and implement FGRT strategy in collaboration with species committees and members.
Financial management and fundraising.
Species committees
There are five species committees:
Ash and sycamore – chair Gerry Douglas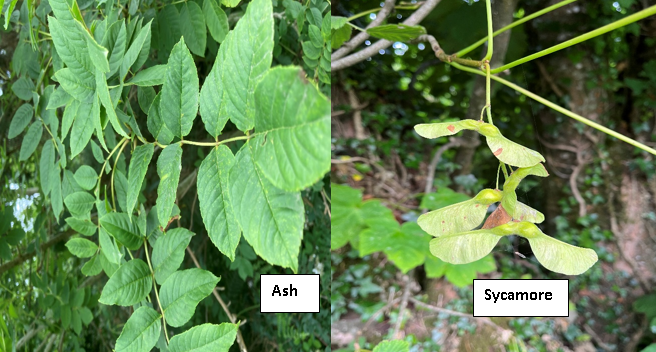 Oak (Quercus robur and petraea) – chair Rodrigo Olave
Sweet chestnut – chair Charles Harper
Walnut and cherry (Prunus avium) – chair Rodrigo Olave
Alder and birch (Betula pubescens and pendula) – chair Oliver Sheridan
The five species committees groups will continue to:
Co-operate and collaborate with FTT work on ash, birch, cherry, oak, sycamore, sweet chestnut and walnut.
Archive and document existing FTT/FGRT genetic resources for the various species.
Promote indigenous seed sources by maintaining close working relationships with the Forest Service and the nursery sector.
Seed orchard and clone bank conservation for the different species.
Costed working plans.
The first Stakeholder meeting was held on 17th September 2019 at the Teagasc Research Centre, Ashtown, Dublin 15. There were 15 attendees.
Open to all interested persons with an opportunity to contribute to strategic direction and work of the species committees.
A second FGRT scientific meeting and AGM was held in the Killeshin Hotel, Dublin Road, Portlaoise, on the 27th June 2022. Presentations were made by the chair of each working group as follows:
Opening Eugene Hendrick
Seed stand and seed orchard schemes Brian Clifford (DAFM)
Teagasc ash programme Dheeraj Rathore (Teagasc)
FGRT ash breeding approach Gerry Douglas
FGRT oak breeding programme background John Fennessy
Oak breeding seedling orchards and provenance trial assessment and analysis programme Rodrigo Olave (AFBI/FGRT)
Using genomics to help breed better oaks Eamonn Cooper (TCD)
Establishment of oak seed orchards Eugene Hendrick
FGRT/FTT sycamore seed orchards and progeny trials Gerry Douglas
FGRT/FTT sweet chestnut programme Charles Harper (UCD)
Teagasc alder and birch programme Oliver Sheridan (Teagasc)
Why quality oak matters Coillte and Irish Distillers (Ger Buckley, Head Cooper, Irish Distillers Pernod Ricard)
The FGRT AGM followed the presentations. Copies of the presentations will be available at FGRT
The Teagasc Forestry Department issues an article on a Forestry topic every Friday here on Teagasc Daily Subscribe to: Forestry e-News Keep up-to-date with the Teagasc Forestry Department here or follow them on Social Media here