28 September 2022
Grass10 Newsletter - 27th September 2022
Farm cover has continued to build this week. Grass growth will slow down with cooler temperatures and rain forecast. Growth predictions are ranging from 35-50 KgDM/ha. Get more tips on managing your grass below
PastureBase Ireland - Dairy Figures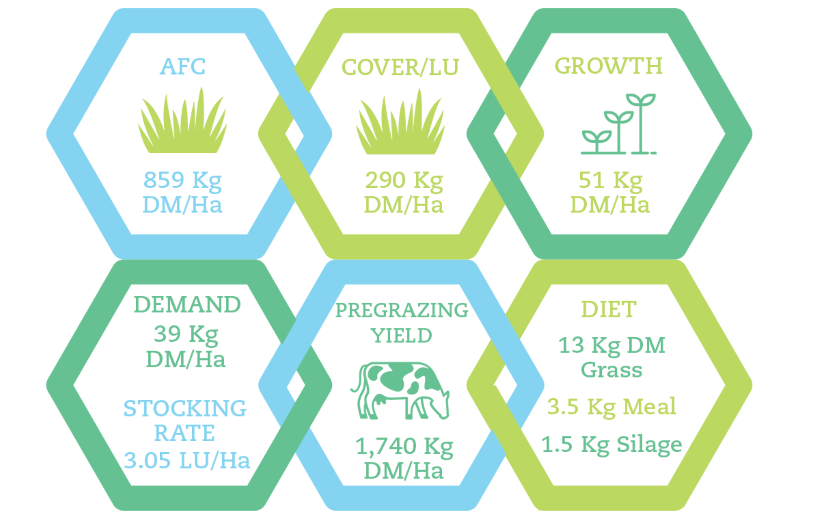 Average Farm Cover - 859 Kg DM/Ha
Cover/LU - 290 Kg DM/Ha
Growth - 51 Kg DM/Ha
Demand 39 Kg DM/Ha - Stocking rate 3.05 LU/Ha
Pregrazing yield - 1,740 Kg DM/Ha
Diet - 13 Kg DM Grass - 3.5 Kg Meal - 1.5 Kg Silage
---
Predicted Grass Growth
Counties map showing predicted grass growth over the next 7 days from farms involved in Elodie Ruelle's MoSt grass growth model on 78 farms.
Growth rates are similar across the country ranging from a low 35 in Clare to a high of 50 in Louth and Meath
---
Predicted rainfall
Counties map showing predicted rainfall in mm for the next 7 days from farms involved in Elodie Ruelle's MoSt grass growth model - 78 farms.
Rainfall is predicted to have a high of 42mm in Clare to lows in the north eastern counties of 20 - 22mm
---
Grass Dry Matter %
Ballyhaise 15%
Moorepark 14.4%
Grange 13.8%
---

Grass 10 Weekly Tips
---
Complete an Autumn Grass Budget on PBI
Farm cover has continued to build this week. However grass growth will slow down with cooler temperatures and rain forecast, growth predictions are ranging from 35-50 KgDM/ha. This means AFC will peak on most farms over the next week.
Complete a grass budget on PBI to make the most of this grass. Why? Because it will help stretch grass for longer. Stretching out grass will increase the amount grown and increase profitability of your farm. The budget will indicate how much silage will need to be fed before the winter starts, this is crucial to allow farmers to take action if fodder deficits exist.
Where AFC is still <80% of the target below, farmers should continue to keep supplement in the diet to reduce demand. This will allow AFC to build slightly. Remember grass grows grass, so capitalise on this! Oct 1st targets for different levels of stocking rate:
2.5 LU/Ha - 1000 Kg DM/Ha AFC
3.0 LU/Ha - 1150 Kg DM/Ha AFC
3.5 LU/Ha - 1175 Kg DM/Ha AFC
Heavy Soils - Closing Off the Farm Begins this Weekend
For farms with a difficult soil type and high six week calving rate, closing-off should begin this weekend. While closing-off is influenced by ground conditions, paddock choice during closing is critical. To start grazing next spring, some of the drier paddocks that have good grazing infrastructure with roadways and plenty of access/exit points will need to be targeted. So these paddocks will need to be closed mid-October to ensure a good supply of grass is available to start grazing next spring. Every effort will have to be made to get the high covers of grass grazed quickly before ground conditions deteriorate.
To get good clean outs on paddocks use a strip wire, graze heavier covers on drier days, keep silage out of the diet, and keep meal levels as low as possible. The replacement heifers may be able to graze a paddock also. The aim on heavy soils is to close about 80% of the farm by 1st Nov. So for a 30ha farm this means grazing 24ha - 80% in 30-35 days, i.e. graze 0.75ha/day or 5ha per week.
Attend a Grassland Winner Walk
This week we are heading to Wexford for the farm walk of Philip Tyndall, the 2021 Young Grassland Farmer of the Year! Philip is a dairy farmer who is focused on breeding a herd of cows that can maximise milk from grass-clover swards.
Next week, on October 4th we are heading to Tipperary for John & Brendan Walsh's farm walk. The Walsh's are the Sustainability category winners who have a big focus on clover on their farm! On October 6th we head to sheep farmer, Shane Moore from Roscommon. Shane was finalist in the GFOY competition and has made huge progress on his farm in the past few years. You are invited to these walks to see how grass and clover can play a bigger role on your farm!
Check out the new mapping tools on PBI App
PastureBase has not only updated the mapping tool on the browser, it has also updated the App. It now features an 'Event Board' which is like a digital version of the Grass10 grazing board. This is a great visual of how many grazings each paddock has got and when they were grazed. This can be accessed through the 'Grazed/Cut Silage' tab on the homescreen.
When you create a grass budget on the browser it can now be viewed through the App through the 'Grass Budget' tab on the homescreen. There are two subsections, 'Stock Intake' and 'Grass Calculation', you can flick between both with ease to monitor target versus actual. The budget must still be updated through the browser and will update once synced!
---
PastureBase Ireland - Drystock Figures
Average Farm Cover - 785 Kg DM/Ha
Pregrazing yield - 1,695 Kg DM/Ha
Growth - 37 Kg DM/Ha
Stocking rate - 2.17 LU/Ha
Demand - 30Kg DM/Ha
Days ahead - 26
---
The Clover Reporter
This weeks clover report is from Peter Doyle, Derrypatrick Herd, Grange
Location: Derrypatrick, Teagasc, Co. Meath
Enterprise: Suckler calf-to-beef
Soil Type: Brown earth with gleying
% Farm In Clover: 50% grass-clover - 32 ha - other 50 % is grass only for trial purposes
% From Reseeding: 53% - 17 ha
% From Oversowing: 47% - 15 ha
Clover content 2022: 27 %
Read Peter's full clover report here
---
Upcoming Grassland Farmer of the Year Walks
Grassland Farmer of the Year Farm Walk Sustainability Award Winner - Tuesday October 4th Ballylooby Co. Tipperary
Grassland Farmer of the Year Farm Walk Drystock Finalist Sheep - Thursday October 6th, Athleague, Co. Roscommon
---
Autumn Grazing Targets
Date
Cover/Cow - Kg DM
Average Farm Cover - Kg DM/Ha
Rotation Length - Days
Stocking Rate of 2.5 LU/HA
1st August
180
450
20
Mid-August
200
500
25
1st September
300
750
30
Mid-September
400-450
1000-1100
35
1st October
400
1000
40
1st November
60% of your grazing platform should be closed for spring at this stage
Fully Housed
550-600
Stocking Rate of 3.0 LU/HA
Mid-August
250
750
25
1st September
330
990
30
Mid-September
370
1100
35
1st October
380
1150
40
1st November
60% of your grazing platform should be closed for spring at this stage
Fully Housed
600-650
Stocking Rate of 3.5 LU/HA
Mid-August
220
770
25
1st September
280
980
30
Mid-September
340
1200
35
1st October
335
1175
40
1st November
70% of your grazing platform should be closed for spring at this stage
Fully Housed
700-750
---
---