07 November 2019
Science Foundation Ireland 2019 Science Awards recognise key leaders in the Irish Research Community
The winners of the prestigious 2019 Science Foundation Ireland (SFI) Awards were revealed today at the annual SFI Science Summit. Over 300 leading members of Ireland's research community came together to celebrate the significant contributions made over the past year to Science, Technology, Engineering and Maths (STEM) in Ireland. This year a new award for Mentorship was introduced to celebrate the important role mentors play in providing guidance, motivation and emotional support in our research system.
Acknowledging the award winners, Minister for Training, Skills, Innovation and Research and Development, John Halligan TD, said:
"The Science Foundation Ireland Awards recognise the breadth and depth that research encompasses from industry collaborations to public engagement and the innovative breakthroughs that are leading research globally in the areas of Immunology, Biomaterials, Cancer research and much more. I would like to congratulate each awardee on their achievements, which illustrate the invaluable knowledge and resource that Ireland's research community offers. I am also pleased to see mentorship amongst the awards this year, highlighting the importance of supporting the next generation of researchers and enriching our growing research community."
Professor Mark Ferguson, Director General of Science Foundation Ireland and Chief Scientific Adviser to the Government of Ireland, also congratulated the award winners, saying:
"On behalf of Science Foundation Ireland, I would like to congratulate the award winners on their success and recognise their dedication in realising their ambitions and in doing so, building Ireland's reputation as a global research leader. We are very proud of the excellent quality of research that our funding enables, and the SFI Awards are an important acknowledgement of the collective achievements of the Irish research community, which continue to be impactful, inspirational and world-leading."
This year there are eight categories in total, with ten award winners as follows:
SFI Researcher of the Year 2019
The SFI Researcher of the Year Award recognises the accomplishments of an SFI funded researcher who has contributed significantly to the Irish research community in the year of the award and/or throughout their career. The successful researcher has achieved exceptional scientific and engineering research outputs combined with a clear demonstration of the ability to communicate their research.
Recipient: Professor Kevin O'Connor, Director of the BEACON SFI Bioeconomy Research Centre, University College Dublin
Professor Kevin O'Connor received his BSc degree and PhD from University College Cork. He is a Professor of Microbial biotechnology in the School of Biomolecular and Biomedical Science at UCD and an investigator in the UCD Earth Institute. As Director of the BEACON SFI Bioeconomy Research Centre, Professor O'Connor is leading blue skies and industry focused research to build and support the development of Ireland's bioeconomy. He is shaping the European Bioeconomy Strategy through his chairmanship of the Scientific Committee for the Bio-based Industries Joint Undertaking (BBIJU), a €3.7 billion Public-Private Partnership. His research work is seminal in the area of circular economy (plastics to biodegradable plastics), circular bioeconomy (dairy processing by-product to value-added chemical) and biotechnology (hydroxytyrosol production by a biocatalyst).
Collaborating with industry, Professor O'Connor developed technology to convert a dairy by-product into an organic acid, which was patented and licensed to industry. It is now being scaled and implemented in a world first "second generation dairy biorefinery", which has received over €30 million in EU funding.
He has published extensively and patented technologies on the conversion of waste plastics to biodegradable plastic and the biotechnological production of hydroxytyrosol (a health promoting molecule) and founded two spin-out companies Bioplastech and Nova Mentis.
Commenting on receiving the Award Professor Kevin O'Connor stated:
"I am delighted and honoured to receive this prestigious SFI award. It is a recognition of the dedication of the many researchers and industry partners with whom I work and collaborate with, across multiple scientific fields and sectors, at UCD, across Ireland and internationally. Through these collaborations we are creating knowledge and translating this knowledge into innovative technological solutions to address global and societal bioeconomy challenges. I would especially like to acknowledge and thank SFI for their funding, and UCD, BEACON centre members and my wife and family for all their support."
SFI Early Career Researcher of the Year
The SFI Early Career Researcher Award recognises outstanding early career research talent and in recognition of the high calibre of nominations in 2019, there are two individual recipients of the Early Career Researcher of the Year Award:
Recipient: Associate Professor Lydia Lynch, Trinity College Dublin
An Associate Professor at Trinity College Dublin (TCD), in the School of Biochemistry and Immunology, Dr Lydia Lynch established and runs the Lynch Laboratory. She graduated from University College Dublin with a BSc in Cell Biology and Genetics and a PhD in Immunology and went onto receive a Newman Fellowship for her early post-doctoral studies in St. Vincent's University Hospital, where she helped establish the Immunology and Obesity Lab. Here she discovered adipose iNKT cells and demonstrated that their activation could help manage obesity and metabolic disease.

Dr Lynch is also the recipient of the prestigious L'Oreal-UNESCO International Women in Science Award and a Marie Curie International Fellowship, which allowed her to move to Harvard Medical School in 2013 and continue studying immunometabolism. Whilst at Harvard, she was a recipient of the inaugural Innovation Evergreen Fund award. She is also the holder of an American Diabetes Association Award and a Cancer Research Institute Award as well as a European Research Council (ERC) Starting grant and SFI President of Ireland Future Research Leader Award and currently leads an international team in immunometabolism at TCD.
Recipient: Dr Orla O'Sullivan, APC Microbiome Ireland SFI Research Centre and Vistamilk SFI Research Centre, Teagasc
Dr Orla O'Sullivan completed her degree in Biochemistry and PhD in Bioinformatics in UCC. She went on to complete a postdoctoral fellowship at the Conway Institute UCD and then joined Teagasc, where she focuses on profiling the microbiome and where she has worked on the ELDERMET project amongst many others.

Dr O'Sullivan is a funded investigator within the APC Microbiome Ireland SFI Research Centre and Vistamilk SFI Research Centre. In 2014, Dr O'Sullivan was awarded an SFI Starting Investigator Research Grant to allow her to establish herself as an independent scientist. In the same year she was awarded the APC Junior Scientist of the Year. She is committed to communicating science to all and actively participates in a number of outreach programmes such as BIG STEM communicators, BT Young Scientist, Fota Mad Scientist and World Microbiome Day.
Her research focuses on the microbiome and her studies have established that healthy and protein-rich athlete diets result in a more diverse gut microbiota than standard diets. She aims to utilise outputs from this research to holistically manage chronic illnesses associated with the gut microbiome, thereby addressing a number of critical societal health challenges.

In 2018, Dr O'Sullivan was named by Clarivate Analytics as a Highly Cited Researcher placing her in the top 1% of researchers worldwide.
SFI Industry Partnership Award
The SFI Industry Partnership Award celebrates a collaboration between an SFI-funded academic research group and industry.
Recipient: Professor Danny Kelly, AMBER SFI Research Centre for Advanced Materials and BioEngineering Research, Trinity College Dublin, for collaboration with Johnson & Johnson Services, Inc.
Professor Danny Kelly is a Professor of Biomedical Engineering and is Director of the Trinity Centre for Biomedical Engineering where he leads a large multidisciplinary orthopaedic tissue engineering group. He holds the Chair of Tissue Engineering at TCD and has received three prestigious European Research Council (ERC) awards. Professor Kelly is at the forefront of tissue regeneration using 3D bioprinting strategies.
Through his position at AMBER he has led the Johnson & Johnson partnership on the TRANSITION programme, funded under SFI's Spokes programme to develop a new class of 3D-printed biological implants that will regenerate, rather than replace, diseased joints. TRANSITION is a shared vision and expands upon AMBER's long-standing collaboration with DePuy Ireland Unlimited Company. TRANSITION, led by Professor Danny Kelly, brings together Principal Investigators and researchers from four AMBER partners (DCU, RCSI, TCD & UCD) and scientists and engineers from Johnson & Johnson's 3D Printing Centre of Excellence and DePuy Synthes. A significant milestone was realised earlier this year with the establishment of the Collaborative Bioprinting Laboratory in TCD's Trinity Biomedical Sciences Institute, which co-locates researchers from both sides of the partnership.
SFI Best International Engagement Award
This award recognises the accomplishments of a Science Foundation Ireland-funded researcher/group specifically in the context of their international activities.
Recipient: Professor Abhay Pandit, Scientific Director, CÚRAM SFI Research Centre for Medical Devices, NUI Galway
Professor Abhay Pandit is Professor of Biomaterials at NUI Galway and Scientific Director of CÚRAM SFI Research Centre for Medical Devices. Professor Pandit has been an elected member on the Council for both the Tissue Engineering and Regenerative Medicine International Society and European Society for Biomaterials Society. He was the first Irish academic to be inducted as an International Fellow in Biomaterials Science and Engineering by the International Union of Societies for Biomaterials Science and Engineering and elected as a Fellow of the Tissue Engineering and Regenerative International Society. He was also elected to the American Institute of Medical and Biological Engineering (AIMBE) College of Fellows.

Professor Pandit has published more than 250 papers in peer-reviewed journals, filed numerous patent applications and has licensed four technologies to medical device companies. He has coordinated four EU grants to date and has generated research contracts from industry and government funding agencies totalling €90 million. Throughout his career, his work has been outward facing, from engaging in international collaborations and hosting international conferences, to supporting trade missions and championing residency programs for leaders in the community (artists, filmmakers, teachers) to empower them with the STEM message.
SFI Entrepreneurship Award
The SFI Entrepreneurship Award celebrates an entrepreneurial achievement by SFI supported researchers.
Recipient: Professor William Gallagher, University College Dublin
Professor William Gallagher is Director of the UCD Conway Institute of Biomolecular and Biomedical Research and Professor of Cancer Biology in the UCD School of Biomolecular & Biomedical Science at University College Dublin. He was also the Director of the first Irish Cancer Society Collaborative Cancer Research Centre, BREAST-PREDICT, which completed its ground-breaking six year programme in September 2019.
Professor Gallagher co-founded the molecular diagnostics company OncoMark in 2007 and is currently its Chief Scientific Officer. OncoMark focuses on the development and application of biomarker panels which address critical unmet needs for cancer patients. A major focus of Professor Gallagher's research work is the identification and validation of candidate biomarkers of breast and other cancers, particularly those which guide treatment decision making.
He has received a number of awards to date, including the BACR/AstraZeneca Young Scientist Frank Rose Award in 2004, the St. Luke's Silver Medal Award in 2008, the NovaUCD Innovation Award in 2011 and the inaugural IACR Award for 'Outstanding Contribution to Cancer Medicine and Research' in 2017. Professor Gallagher has led multiple EU networks under EU programmes, he has had many collaborations with a variety of industrial partners throughout his research, and has filed multiple patents.
SFI Outstanding Contribution to STEM Communication
This award recognises an outstanding contribution to the popularisation of science and recognises an individual who raises public awareness of the value of science to human progress. This year as the calibre of nominations was so high there are two individual awardees in this category.
Recipient: Associate Professor Eilish McLoughlin, Dublin City University
Associate Professor Eilish McLoughlin obtained her BSc in Applied Physics and PhD in Surface Physics from DCU and is Director of the Research Centre for the Advancement of STEM Teaching and learning (CASTeL) at DCU.
Dr McLoughlin believes passionately that science is for everybody and has led several large-scale national initiatives to widen participation in STEM including Physics Busking, Science on Stage, Improving Gender Balance (all 3 have been funded by SFI) and the STEM Teacher Internship. Her outstanding contributions to STEM engagement have resulted in many awards, especially the prestigious Institute of Physics Lise Meitner Medal in 2018 and the DCU President's Award for Engagement in 2017. She has led several EU collaborations in STEM Education including coordinator of ESTABLISH, Co-Coordinator SAILS and is currently National Coordinator of the H2020 Open Schools for Open Societies project.
Recipient: Dr Muriel Grenon, NUI Galway
Dr Muriel Grenon is a lecturer in Biochemistry, School of Natural Sciences, NUI Galway and the founding Director of the Cell EXPLORERS science outreach programme. Dr Grenon started out the programme in 2012 with a team of 10 undergraduate science students in NUI Galway and has built Cell EXPLORERS into a national network comprising 13 partner teams with members from 15 Higher Education Institutions in Ireland. Between 2012 and 2018 Cell EXPLORERS involved 1,187 team members, visited 471 classrooms in 280 schools and reached 32,000 members of the public. Cell EXPLORERS has also successfully integrated science outreach projects into the final year of the Biochemistry undergraduate course at NUI Galway allowing the creation of potential novel science outreach resources each semester.
Dr Grenon is also involved in driving science communication internationally: Cell EXPLORERS is part of Scientix, the community for Science Education in Europe. The programme has also started a collaboration with the University of Kwatzulu-Natal in South Africa, where a team is currently piloting the 'Fantastic DNA school' visits.
Dr Grenon's contribution and dedication to the popularisation of STEM has been recognised by the 'Outstanding Contribution to STEM' award at the 2013 Galway Science and Technology Festival, the 2017 'NUI Galway President Award for Societal Impact' and being made Knight of the Order of the Palmes Académiques by the French Ministry of Education in 2019.
SFI Mentorship Award
This inaugural award recognises outstanding mentorship provided by a researcher funded by Science Foundation Ireland.

Recipient: Dr Fatima Gunning, IPIC SFI Research Centre and Tyndall National Institute
Dr Fatima Gunning completed her BSc in Physics and PhD in Optoelectronics from Pontifícia Universidade Católica do Rio de Janeiro (PUC-Rio), Brazil before joining IPIC SFI Research Centre, hosted by Tyndall National Institute after a brief two year period at Corning.
Currently serving as Head of Graduate Studies at Tyndall National Institute and a PI at IPIC SFI Research Centre, she is looking at novel photonics technologies for the Internet of the future. She has also led many diversity and inclusion programmes that are directly targeted at improving the deficit of diverse talent and gender balance in the field including Empowering Women@Tyndall and being a key advocate for Tyndall to apply for Athena SWAN by 2020. Dr Gunning has been selected to become Vice President of Membership and Outreach of the IEEE Photonics Society starting January 2020 to expand the diversity, inclusion and mentorship efforts to an international scale.
Dr Gunning believes that all students are different, are driven by different motivations and develop their research in different ways. As a result, she trials novel mentoring methods to encourage self or group learning, depending on the students' needs.
She is a leader and crucial player in guiding the young researchers of today towards a more equitable STEM industry of the future. Her students graduate with a high level of technical skills, self-confidence, a love for working in a team, connected to a large network and are able to communicate their ideas clearly.
SFI Research Image of the Year
The Research Image competition celebrates images captured by Science Foundation Ireland funded researchers during the course of their research.
Image title: Synthesised Nanoflowers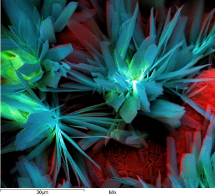 Recipient: Dr Han Shao, Postdoctoral Researcher, Tyndall National Institute
This nickel foam supported cobalt phosphate nanoflake structure was synthesised via a simple hydrothermal method. The EDX image (without further doctoring) shows the distribution of different elements (red-Ni, purple-Co, blue-O, green-P) of cobalt phosphate microstructure. The nanoflake grew outward in different directions, forming a flower-like microstructure, which helps to enhance energy storage performance. With superior storage capacity and long life, the cobalt phosphate-based device can be employed in next-generation artificial cardiac pacemakers as a rechargeable energy source that will last for more than 15 years.