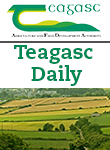 10 steps to making better quality silage
12 May 2020
Type Media Article

Silage makes up a least a quarter of the annual diet on most beef and dairy farms. Quality ranges from 58% to 78% dry matter digestibility (DMD) nationally, but average quality remains poor at around 65% DMD. Joe Patton & Michael O'Donovan advice on what can be done to improve average quality.

1. Decide on silage quality needed:
The first step to improving silage quality is to decide how much and what type of silage is needed.
For spring calving suckler herds, dry cows will need about 6 bales (1.1 tonne DM) per cow 68 DMD silage with all remaining silage at higher quality (72+).
Dairy herds (spring calving) need about 0.8t DM of 68 DMD silage with 100% of the remainder as high quality (72+). At least 50% of total silage will need to be high quality
Calf-to beef-systems need 100% of silage at 72+ DMD.
2. Cut at the right growth stage:
Grass growth stage at harvest is the most important factor deciding silage quality. Once seed heads appear DMD will be around 70% at most, and will drop by 1 point every 2-3 days after that. Lodged crops with dead material at the base will have 3-4% lower DMD still. The main step to improve average quality is cutting from mid-late May rather than into mid-June
3. Do not sacrifice quality for bulk:
Well-managed silage swards closed from late March should have good yields of 5.5 to 6t DM per ha (9-10 tonnes per acre fresh) ready for cutting by late May. Using a 'one big first cut' approach to make silage increases risk of fodder shortages because second cut yields and annual grass production are reduced by pushing first cuts into mid-June. Given the somewhat slower growth this spring, the advice is to aim for late May with no more than a 4-5 day delay.
4. Do not wait 'for Nitrogen to leave the crop':
A common reason for putting off cutting silage is concern about Nitrogen. A useful guide for fertiliser N is that grass uses 2.5 kg N (2.0 units) per day on average, so final N should be applied approximately 50 days before planned cutting date. However, should not be used to decide cutting date. If weather conditions are suitable for cutting, test the grass crop for sugars rather than sticking rigidly to the '2-unit rule'; the crop can be safely harvested sooner depending on conditions.
5. If in doubt, test sugars:
High sugar content allows the crop to ferment quickly in the pit/bale, reducing pH and preserving the crop correctly. Teagasc advisory offer a testing service (nitrates also), or indeed crops can be home-tested using a refractometer. If sugars are over 3% then the crop will ensile readily, at 2-3% wilting will be beneficial, while below 2% an additive will be required. Mow in the evening when sugars are highest if possible.
6. Wilt for a day:
Wilting grass to 28-20% dry matter is very beneficial to good preservation, especially if sugars are less than 35 and nitrate is somewhat elevated. Tedding out for 24 hours is the recommended approach; grass will not dry enough in large rows even if left for 36 hours.
7. Choose additives based on need:
In general, if sugars are 3% plus and conditions are good, additives are not usually required. If weather and sugars are marginal, adding a direct source (molasses at approx. 10-15 litres per tonne) will improve preservation. Consult your adviser in relation to the need for an additive in specific circumstances.
8. Reduce post-harvest losses:
Work done at Teagasc Grange has shown that farms can lose up to 20% of DM post-ensiling through poor management. This can be a combination of effluent losses, failure to fully seal pits, and damage to bales. Seal pits quickly and completely, and monitor regularly for damage by vermin.
9. Plan for a good second cut:
With earlier cutting there is a great opportunity to make a cost-effective second cut of silage in July. Speak to your adviser about a feed budget and proper fertilizer plan for second cut silage.
10. Health and safety:
Silage time is a very busy, pressurised time on farms. It is also an exciting time for younger family members who to like to see large machines in operation. This is a dangerous combination. Keep all non-essential people well away from yards and working fields. Have traffic plan in place and place warning signs at exits to public roads.