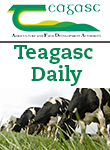 Ballyhaise Farm Update
27 May 2020
Type Media Article

The dairy herd in Ballyhaise is a research herd and the research programme is running in conjunction with Moorepark dairy research centre. Donal Patton gives and update on the herd and the grassland management

April and May have been exceptionally dry which has suited the farm with good growth rates and excellent grazing conditions all round. It's only in the last week that soil moisture deficit has impacted on growth rates with growth dropping back to 50 on Monday. Average farm cover is 708kg DM / ha and cover per cow is sitting at 159 kg DM / cow. Pre grazing yields are slightly high at 1550 kg DM / ha but with demand well ahead of growth at 67 kg DM / ha we are holding off skipping paddocks for silage. First cut silage was harvested last week with average yields of 4,500 kg DM / ha. Most of these paddocks were grazed in mid-March. This would be a week earlier than the usual cutting date but we decided to cut when conditions were good and secure a bank of high quality silage early in the year. The silage area has all received 2500 gals of slurry per acre with a dribble bar and will receive protected urea this week. We are spreading 20 units of protected urea per acre and 3.5 units of sulphur after grazing.
Cows peaked at 2.1 kg MS per cow in late April and are currently producing 2.02 kg MS on 1kg of concentrate. We started breeding a week earlier than usual this year as we used sexed semen for the first 7 days of breeding with the cows and all heifers were AI'd with sexed for the first service on a fixed time AI programme. On day 17 there is a 70% submission rate in the cows. Tail paint is being used for heat detection with cows and vasectomised bulls will be introduced on week 5 to help pick up repeats. The plan is to use all AI with no stock bulls being used to mop up in order to generate better quality beef calves.
The first 27 weaned calves were turned out this week on the heifer rearing unit. They were turned out to a bare silage paddock and are getting 1.5kg of meal and access to straw. They will be transitioned on to 1300kg DM / ha covers over next 2 weeks and meal will be reduced. All heifer calves should be weaned over next two weeks.