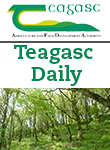 Broadleaf silviculture
18 June 2020
Type Media Article

Twenty-nine percent of the forest estate in Ireland is broadleaf (195,000 ha). The main broadleaf species present are birch, ash, alder, oak, beech and sycamore, predominantly planted within the last three decades and as single-species blocks. Dr Ian Short, Forestry Research Officer talks about some of the latest research in broadleaf silviculture in a recent episode of The Research Field podcast.

Teagasc Broadleaf Silviculture Research
Teagasc has been conducting applied broadleaf silviculture research for the last two decades. The Broadleaf Silviculture project is investigating various facets of broadleaf forest management, beginning with establishment. One trial is investigating the impact of planting oak in mixture with birch – birch is being used here as a nurse crop to protect the more sensitive oak from exposure to frost and to also train the oak to grow upwards rather than in a more bushy form. The broadleaf silviculture project is also investigating some novel silviculture for the management of poorly-performing broadleaf stands. One of the trial sites is at Teagasc Oak Park, Co. Carlow, in an oak stand that was planted in 1982/1983. This stand was subsequently badly affected by grey squirrel a decade ago. The damage caused by the grey squirrel resulted in few oak trees with sufficient good quality to produce sawlog in the future. In the winter of 2018/2019, those few good quality trees remaining were selected and marked, and the poor quality trees were felled. The resulting stumps have produced shoots (coppice) which will be managed over the next decade or two to produce good quality stem form, with the objective of producing future sawlog. In addition, natural regeneration of birch, oak, sycamore, hazel and oak appearing in the stand is being managed to result in a mixed-species productive broadleaf stand. If no management had been carried out, the oak stand would likely only produce firewood. There is also a proliferation of ash natural regeneration seedlings appearing but these are not being selected for retention due to the impact of ash dieback.
CAPTION: Oak Park oak coppicing/stumping back trial at beginning of second growing season after intervention, May 2019.
The Ash Restructuring project is looking at options for the management of ash stands currently, or likely to be, affected by ash dieback.
Teagasc is also researching the end products of forestry. The exploitation of small diameter alder project, through a Walsh Scholarship with GMIT Letterfrack National Centre for Excellence in Furniture Design and Technology, is investigating the working properties of second thinnings from alder. The objective of this project is to then match those properties with potential end-uses and/or to prototype products that can be produced from alder second thinnings.
More information regarding these, and other, projects that Dr Ian Short is working on can be found by following links from his Teagasc staff page which also includes links to his publications and presentations.
CAPTION: Inspecting some small diameter alder logs at GMIT Letterfrack (from left): Dr Ian Short (Teagasc), Sean Garvey (GMIT Letterfrack) and Colin Marren (Walsh Scholar).