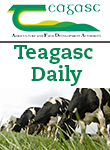 Calf Rearing Update - Teagasc Moorepark
10 May 2020
Type Media Article

Emer Kennedy and JP Murphy give an update on the progress to date of the 2020 born calves in the dairy research farm at Teagasc Moorepark.

On most dairy farms calves are either weaned or will be shortly and are heading to grass. The 2020 born calves from the main Teagasc herd are all weaned and are now grazing on an outblock 5 miles away from the main Teagasc farm and they will stay grazing there for the rest of the summer.
In general the calves graze covers of about 1,400 DM/per ha and they get fresh grass every 2-3 days which they are grazing down to about 4cms. At the moment they are getting about 1 kilo of concentrate per day but the amount of concentrate they receive depends on grass availability and the weight gain of the calves.
Every year calves are divided based on their weight so there are two groups of calves. The lighter calves are in a smaller group where there is less competition and they get preferential treatment such as higher quality grass and/or more concentrate. The calves are weighed regularly and regrouped at every weighing. Once they reach the minimum weight they graduate into the next group. The aim of this is to ensure the calves reach their target weight and are as uniform as possible.
This year there was a different approach to weaning the replacement heifers. Normally they are weaned by weight, but this year they were weaned by age as there was an experiment, which was part of Alison Sinnott's PhD, looking at different calf housing options. As some calves were housed individually and according to EU directives they could not stay in the houses over 8 weeks of age all calves were weaned at 8 weeks old. When the calves were weighted last week (29th Apr) they were on average 87 kilos. This time last year the calves of the same age who we weaned based on the weight were 100 kilos on average.
When we wean based on weight we target 90 kilos for the Holstein friesian heifers and 80 – 85 kilos for the jersey cross heifers so in general it took about 11-12 weeks of age to reach their target weight.
From here onwards the focus will be to get the heifers to achieve their target weight of 30% of mature bodyweight at 6 months of age (August). It has been calculated that they will need a daily weight gain of0.8 kg/day to achieve their target weight. Good grassland management, concentrate supplementation and adhering to vaccination/dosing protocols will help achieve this.
At this stage calves have received two clostridial vaccinations and have been dosed twice for coccidiosis. They will receive an IBR vaccination at 6 months of age. Once the calves have been at grass for 8 weeks faecal samples will be taken for egg counts – dosing will depend on the results of these samples.
In this clip, Emer Kennedy and John Paul Murphy give an update on the 2020 born Moorepark replacement heifers, their grazing management, weights, how they will be grouped and their vaccination/dosing plan.