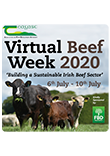 Clinical diagnosis of bovine respiratory disease (BRD)
06 July 2020
Type Media Article

Bovine respiratory disease (BRD) is is one of the most significant causes of morbidity and mortality in cattle. An accurate and early diagnosis of clinical (BRD) and sub-clinical bovine respiratory disease (sBRD) is necessary to get a better classification of the disease and guide effective treatment.

At AGRIC, Teagasc, Grange, thoracic ultrasonography (TUS), a novel technique, is being used in cattle to examine the appearance of the lungs and diagnose BRD in conjunction with clinical respiratory signs. Respiratory signs can be evaluated using the Wisconsin clinical respiratory score (CRS). The CRS is based on assessment of five clinical signs including elevated rectal temperature, cough, eye and nasal discharge, and ear position. Each clinical sign is partitioned into four levels of severity (from 0 to 3) as 0 indicates the lowest risk of being sick and 3 with the greatest risk of BRD. It is recommended to treat animals with respiratory disease if the CRS is ≥5, and to observe calves with scores of 4. Calves with ≤3 are considered clinically healthy. Some of the drawbacks of using scoring systems alone include the subjective nature of ranking the severity of clinical signs as well as the inability to identify animals with sBRD.
Thoracic ultrasonography is performed using a linear probe at a maximal depth of 10 cm. The ultrasonogram can distinguish differences between the normal lung, lung lesions, pleural effusion (Fluid) and the presence of emphysema.
The detection of sBRD in cattle with lung lesions without showing clinical respiratory signs, can only be confirmed using TUS. The combination of CRS with TUS provides a better classification of BRD and sBRD.
Acknowledgements
This research is funded by a US-DAFM partnership tripartite grant (RMIS-0776 ; Project 2018US-IRL200) led by Dr. Bernadette Earley and research investigators at Teagasc (Dr. Mark McGee, Dr Matt McCabe, Dr. Paul Cormican), working in collaboration with the United States Meat Animal Research Center (US MARC) Clay Center, Newbraska, US (Dr. Tara McDaneld, Dr. Tim Smith) and AFBI, Northern Ireland (Prof. Louise Cosby). Inmaculada Cuevas-Gómez (MVB, M.Sc.) is employed as a Post-Doctoral researcher on the grant.
Inmaculada Cuevas-Gómez, Mark McGee, Matthew McCabe, Paul Cormican, Bernadette Earley.