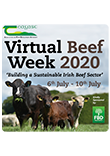 Dairy-beef performance under three stocking rate intensities
07 July 2020
Type Media Article

The current research programme in Johnstown Castle is evaluating the effects of herbage allowance (by using three stocking rates) on the performance of dairy × beef crossbreed cattle. Ruth Dunne, Wayne Hayes, Richard Lynch and Padraig French have further information on the research

Introduction
Previous research at Johnstown Castle identified blueprints for alternative dairy-beef production systems. It was found that the most significant factor determining profitability of these production systems was output per ha. With this in mind, the current research programme is evaluating the effects of herbage allowance (by using three stocking rates) on the performance of dairy × beef crossbreed cattle.
Experimental design
Each year 216 reared dairy-beef crossbreed calves are purchased and assigned to one of three SR groups; low (2.65 LU/ha), medium (2.92 LU/ha) and high (3.18 LU/ha). Each group consists of 36 heifers and 36 steers and are balanced for breed (AAX, HEX and LMX). Across the farm, the paddocks are divided in blocks so that the various soil types and conditions are represented in each SR 'farmlet'. Heifers born in 2015 were slaughtered at either 19 or 21 months of age, while the steers were slaughtered at either 21 or 27 months of age. All animals were finished off grazed pasture and received 2.5 kg of concentrate for 60 days pre-slaughter. From 2016, all animals were selected for slaughter based on a target body condition score of 3.50; the heifers begin their finishing period in August/September and are finished by January. The steers are all housed for the second winter, turned out in the spring and killed off grass in June/July.
Results to date from the stocking rate trial
The average daily gain (ADG) was similar for the high, medium and low SR groups during the first season at pasture, first winter and third season at pasture (steers only). ADG during the second season at pasture (heifers and steers) and the second winter (steers only) was lowest for the high SR animals. Carcass weight was higher in the low and medium SR animals; however this difference was only significant in heifers. Conformation and fat scores and days to slaughter were similar across the three contrasting SR groups for both steers (Table 1) and heifers (Table 2). A preliminary economic analysed compared the 21 month heifer and 26 month steer system across the three stocking rates, assuming a calf price of €200, a finishing period of 60 days on 2.5 kg concentrate/day and a meal price of €257/tonne. From this, the medium stocking density system produced the greatest net margin/ha (Figure 1.)
Conclusion
Significant differences were found in carcass weight, second season ADG and lifetime ADG between the high and reduced SR groups. This is a result of the increase in herbage allowance to the low and medium groups. Although the high SR had greater gross margin/ha, due to increased animal sales and therefore carcass output/ha (Table 3), the medium SR had the highest net margin/ha (Figure 1). Further economic analysis is required to reinforce these results.
Summary
High stocking rate (SR) has a significant effect on carcass weight in heifers and lifetime average daily gain in both heifers and steers.
Preliminary economic analysis shows higher net margin/ha for medium SR heifer and steer systems.