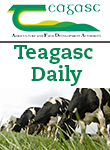 Dairy Breeding Advice for Spring 2020
30 March 2020
Type Media Article

DAIRY: Advice on how to ensure that your breeding season in 2020 is a success. It is important to use heat detection methods, monitor the Body Condition Score (BCS) of your cows and check out any problem cows.

The objective of every farmer should be to retain 80-82% of the cows currently in the herd to milk again in 2021. A replacement rate of 18-20% is the ideal replacement rate as this allows for the herd to achieve its full potential in terms of milk solids production. Higher replacement rates mean reduced performance as the age profile of the herd will not support maximum output.
In this video, George Ramsbottom, Teagasc Dairy Specialist gives an overview of the summary guideline points for breeding advice for the coming season.

The replacements being introduced in 2021 should replace any cows lost through infertility and also allow for selective culling from the herd. However, it is often the case that infertility accounts for the majority of the group of replacements entering the herd and poor performers or cows with problems such as SCC or feet and leg issues are retained in order to hold numbers.
A little bit of effort now should help to avoid this issue in 2020. How? Most calving seasons throw a few curve balls in spite of the best management; milk fever, hard calvings, retained afterbirths, mastitis. All of these issues can compromise the reproductive efficiency of the cows that fall victim to these illnesses and if they go unchecked, a proportion of these will either fail to go in calf and are culled or may cause significant slip in terms of calving date which will put them at risk of being culled from the herd at an earlier stage than they should be next year or in subsequent years.
In this video, George Ramsbottom, Teagasc Dairy Specialist outlines the importance of getting your replacement heifers out to grass.

What we do over the next couple of weeks will influence how successful we will be in this objective. What we need to do now:
1. Heat Detection
Pre-breeding heat detection is very useful to identify cows that aren't cycling in advance of the breeding season. People often say that this is a wasted effort but don't put in any effort and it won't be a waste! Just tailpaint the cows and note the cows that have paint removed if you see them and if you don't you will see later that the paint is removed and that they have been cycling. It's the cows that still have the paint are your biggest concern.
To help to make this easier:
Clip the rumps to firstly improve tailpaint application and secondly to help eliminate confusion around tailpaint removal later in the season when layering will occur if not clipped
Apply the tailpaint should in a narrow strip approximately 9 inches long and 1.5-2 inches wide so that it is obvious that it has been removed
2. Body Condition Score (BCS) Monitoring
Monitor the condition score of the cows in the herd. Consider putting thin cows (2.5-2.75) on once a day milking. This will prevent further condition loss and should increase condition score over a period of time – this will improve the breeding performance as the cow is under reduced pressure. Yes you are foregoing some milk sales by doing this but you will retain the cow which is a bigger cost in the longer term. In order to do this without effort, continue to put these cows through the parlour twice a day with the rest of the herd but only milk once. Feed as if they are milking twice a day also.
3. Check out the problem cows
Any cows that had trouble during the calving season can be metrichecked or scanned to check if they have an infection or if they are cycling and treated as necessary. Even if some of these problem cows have exhibited signs of heat and their tailpaint has been removed, it is worth getting them checked to make sure everything is as it should be.
The earlier that any infections or non-cycling cows are identified, the better their breeding outcomes are likely to be as they are given the maximum number of opportunities to go in calf before the end of the breeding season so early intervention is key
This video gives a brief overview of the three main areas that need to be looked at in preperation for the breeding season.

So remember:
Tailpaint all cows in the herd a month before breeding/mating start date – don't spend too much time observing (save your energy for the main breeding season). All you need to do is note what cows have paint removed if you see them when bring the cows in for milking.
Any cow that still has tailpaint remaining at the start of the breeding season should be examined to determine the reason for not cycling
Finally, BCS management at this point of the season is critically important to influence breeding performance of low BCS cows.