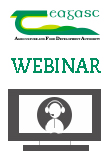 Farm Business Options Webinar - Solar Photovoltaic (PV) – Questions for solar developers
28 October 2020
Type Event Proceeding

The third webinar in the Farm Business Options Series took place on Tuesday, 27 October.

Webinar host, Barry Caslin, Teagasc Energy & Rural Development Specialist was joined by James McDonnell, Teagasc Farm Management Specialist; James Staines, Principal of Staines Law & Declan McEvoy, Head of Tax, IFAC to discuss Solar Photovoltaic (PV) – questions for solar developers.
Land owners are currently been approached by solar developers to sign option and lease agreements for solar or wind projects. This webinar focused on the do's and dont's of such agreements.
View webinar recording below:
Find out more about the series or register for future webinars here: Farm Business Options Webinars