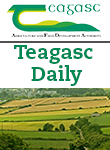 Farm Roadway Quality Indicators
12 June 2020
Type Media Article

Effort should be given to maintaining roadways to a high standard. This in turn reduces impediments to cow movement and will lower contaminated material that is a source of pollution. Researchers Paul Rice, Owen Fenton, Karen Daly, John Murnane and Patrick Tuohy give more information.

Farm roadways form an important part of the infrastructure on many enterprises, facilitating movement of animals and machinery in an efficient and controlled way. The use of farm roadways varies from intensive to occasional use and also varies seasonally. For example, on dairy farms, during the milking season the roadways are in daily use, particularly near the farm yard and milking parlour areas.
Farm road surfaces tend to be mostly impermeable, even granular surfaced roads tend to become compacted and therefore more impermeable over time. Consequently much of the contaminated material dung and urine a source of pollution, simply sits on the road surface until it is either removed or washed along (mobilised) or off the road following rainfall events. Thus farm roadways have the ability to form a conduit/pathway which can quickly transfer contaminated rainfall runoff along its surface to other parts of the farm. See Figure 1; From areas A through B to C, and from D to C.
The spatial layout and configuration of roadways varies significantly within and between farms. Some of this variability will be due to enterprise type e.g. beef versus dairy, grassland versus tillage, the landscape and farm shape - roadway slope or length. It can also be due to poor planning or construction such as gates in incorrect positions or too narrow, sharp bends, restrictive junctions or lack of crossfall. In many instances the core road network has been in place for many years and was initially designed for lower livestock numbers than currently exists. These roadways, even if well maintained tend to be compromised in terms of width and as a result reduce livestock flow and comfort when in use.
Efficient livestock movement and ease of access will be hindered by the level of maintenance of the roadway with obstacles to livestock movement and comfort taking many forms, including:
uneven/damaged surfaces - Figure 2
potholes
excessive dung/dirt - Figure 3
excessive shelter/shading - promotes dirty surfaces and dampness
As such, a patchwork of different roadway types can be pieced together to form the roadway network. The different elements will vary in terms of configuration, geometry, surface condition and constituent materials. Livestock will therefore encounter many different roadway types and configurations when walking along the roadway network. Concerted effort should be given to maintaining roadways to a high standard, which in turn reduces the outlined impediments to cow movement. Farm roadways closer to the farmyard tend to be better developed and maintained while those servicing the outer extremities can be underdeveloped.
In a dairy farm situation, the state of repair of the first 100 m of roadway that extends from the farmyard is of the utmost importance. It has been found that the contents of the roadway runoff a pollution source, from this area in many instances is similar to dilute slurry or dairy soiled water. This is also the case where roadway configuration or quality (Figure 2) slows down cow movement along the network. It has been found that the greater the amount of time spent by cows in a particular area, the greater the number of defecations and urinations made by them in that area. This can become a serious issue as farm roadways are typically constructed to optimise surface drainage to adjacent land or deliver this temporary runoff to a watercourse (Receptor; Figure 3) thereby alleviating ponding and waterlogged conditions. In the event of both of the above instances not being managed properly a serious pollution risk can manifest.
It is important to identify roadway sections that receive greater loads of sediment with roadway material incorporated within dung and urine. Once identified increasing the speed (i.e. flow) of animals through these sections would decrease the load of source materials on roadways, thereby decreasing load losses in roadway runoff as mobilisation occurs.
This work was funded by the Irish Environmental Protection Agency and Department of Agriculture, Food and the Marine as part of the ROADRUNNER project; grant number 2018-W-MS-38.
Follow us on Twitter @ROADRUN_Project