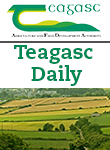 Farmers are frequent Hand-Washers – keep it up to defeat COVID-19!
03 June 2020
Type Media Article

Hand washing is very important in the battle against Covid-19. During their working day farmers wash their hands frequently. Teagasc Health and safety specialists John MC Namara and Francis Bligh have some advice and information

Hand washing is a crucial hygiene at any time, but is particularly required with COVID-19 emergency. Other vital COVID-19 preventative measures include: social distancing (2 meters); cover mouth and nose when coughing or sneezing and discarding tissues; No shaking hands and hugging; avoid touching eyes, nose or mouth with unwashed hands and clean and disinfect frequently touched surfaces.
Defeating the Virus
Preventing and ultimately defeating the COVID-19 virus depends hugely on all our behaviours. Everyone is vulnerable to virus spread. The farming community has the relative advantage of living and working in low population density areas. However, due to the age and health profile ( Figure 1) and off farm employment vulnerability to the virus is high. Also, the potential for 2nd or 3rd waves exists so controls need to stay in place into the future.
Hygiene Study
A large study (n=1044) by Public Health Scientist Dr Marrita Mahon HSE and DAFM Veterinary Surgeons indicates that farmers have a strong practice of hand-washing for hygiene for animal care. Farmers washed hands before eating/smoking (96%), after handling sick animals (89%) and morning & evening (86% ). Dairy and Suckler farmers had similar levels of hand washing. However, younger farmers (under 45 years old) had about a 7% lower levels of hand washing on average across the three situations.
Behavioural Practices
The challenge of implementing behavioural hygiene practices is to embed the habit. This means being conscious of practice at key protective moments. With hand-washing it's about giving it enough time and doing it right. Maybe younger farmers don't give the practice enough time ?
Effective hand washing takes time and effort to do it correctly. Soapy water damages the fatty outer layer of the virus, while the friction of rubbing hands damages it. The correct technique to wash hands fully is described in the HSE Video https://www2.hse.ie/wellbeing/how-to-wash-your-hands.html

Farm Deliveries
Delivery drivers report very high levels of COVID -19 preparedness by farmers with soap and water, paper towels and disinfectant available. We need to keep preventative measures going to defeat the virus.
Reference
Mahon, .M.M., Sheehan, M.C., Kelleher, P.F., Johnson, A.J., Doyle, S.M., (2017)
An assessment of Irish farmers' knowledge of the risk of spread of infection from animals to humans and their transmission prevention practices. Epidemiology & Infection.(2017),145,2424–2435.
Available at: https://pdfs.semanticscholar.org/8cf6/1879d41ef44dc3c2f0e654da556c92625f76.pdf
Prepared by Dr John McNamara and Mr Francis Bligh, Teagasc Health and Safety Specialists and Dr David Meredith, Senior Research Officer in Human Geography
Figure 1: