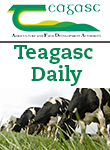 Future Farmer Virtual Farm Walk - Thomas & David Fennelly
10 June 2020
Type Media Article

On Thursday June 11th, Thomas & David Fennelly are giving an insight into their lives as Dairy Farmers in County Laois. They will give regular updates on the Teagasc Twitter and Instagram accounts and also join us for the weekly Let's talk dairy webinar.

Thomas and David Fennelly, participants of the Teagasc/ Glanbia Future Farm Programme are farming at Tinakill near Portarlington, Co. Laois. They are farming 106 ha and milking 200 cows with 70 replacement units.
The Fennellys had planned to host an open day tomorrow, Thursday 11th June but due to current restrictions, they are holding a virtual farm walk with a morning webinar session as part of the Let's Talk Dairy webinar series. They will be interviewed by Richie O'Brien, Co-ordinator of Teagasc/ Glanbia Future Farm Programme about how they are farming sustainably. Following on from the webinar they will be doing a social media takeover on the Teagasc Twitter & Instagram accounts.
The topics below will be discussed throughout the the day and also how the farm is changing to enhance these.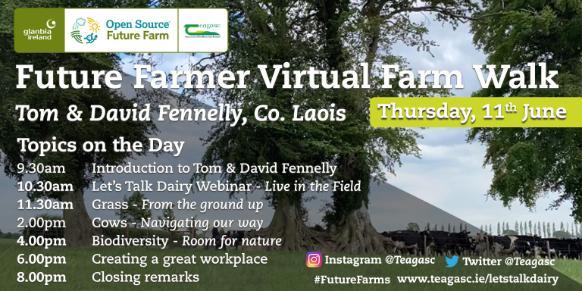 Register for the webinar here:
Follow Teagasc on social media to follow their day:
Teagasc Twitter | Teagasc Instagram
The Open Source Future Farm Programme is the third evolution of the Teagasc/ Glanbia Ireland knowledge transfer programme. It will harness advancements in technology and farm practices to support farmers to make the necessary changes for a profitable and sustainable future.
The main objectives of the programme are to enhance:
Productivity and efficiency
Environment
Health and Welfare: animal and farmer
Find out more about the programme here or alternatively find out more about the Fennellys here