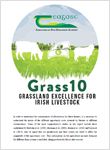 Grass 10 Newsletter July 21st 2020
22 July 2020
Type Newsletter

Get the latest news and information from the Grass 10 team

Download Publication (PDF)
The focus this week is on:
Grass quality during the last round of summer grazing
Grazing management
Applying K
Videos:
Watch the videos from beef farmers and members of the Grass10 courses to see why they are involved.
Aidan Maguire, Navan, Co. Meath
Tommy Murphy & Prionsias Creedon, Macroom, Co. Cork
Social Media Takeover:
Mike Bermingham the 2019 GFOY Dairy Winner taking over our social media on Wednesday 29th July. Discover the performance Mike can achieve with good breeding and good grassland management.