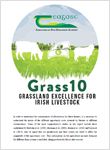 Grass10 Newsletter - 15th September 2020
15 September 2020
Type Newsletter

Information and updates from the Grass10 team

Download Publication (PDF)
The key messages in this week's newsletter are:
PastureBase data for the week.
Focus on clean graze outs and grazing some of the more challenging areas of the farm with the current settled spell of weather.
Tips for building grass covers if you are running behind the autumn grazing targets. Continue to measure grass on farms and record on Pasturebase.
Flyer for "Virtual Sheep Week" which runs from 21st- 25th September.
Next Monday 21st September will focus on grassland management on Irish sheep farms. See the flyer for the link to the webinars which take place at 7pm each evening.
Flyer for John Trant social media takeover day this Wednesday 16th September.
John was the Grassland Farmer of the Year 2019 – Young Farmer category winner and is the farm manager in Clongowes Wood Farm, Clane, Co.Kildare.