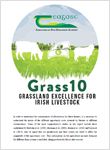 Grass10 Newsletter - 17 November 2020
17 November 2020
Type Newsletter

Information and updates from the Grass10 team

Download Publication (PDF)
The key messages in this week's newsletter are:
PastureBase data for the week
Grazing coming to an end on most farms for 2020
Virtual Dairy Conference 2020 is taking place next Tuesday and Wednesday, 24th and 25th November. Tune in on Tuesday for webinar discussions on clover and reducing chemical Nitrogen spread on farms.
Interpreting your PastureBase reports for 2020, starting this week with the "Farm Cover Report"
Update from Aidan Lawless and Joe Patton on the Winter milk trials from Johnstown Castle research farm in Co. Wexford.
The Grass10 team and PastureBase will hold a webinar on Wednesday 9th December at 7pm to help farmers understand and capitalise on the PastureBase reports. More information and register here https://bit.ly/PBIWebinar