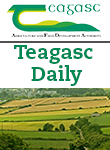 Health & Safety
08 April 2020
Type Media Article

HEALTH & SAFETY: The Health and safety focus presently is to flatten the Covid 19 curve and keep farm families safe and well. This can create pressure on farms. Get advice and tips from advisors Claire Mooney.and Michael Somers

Covid 19 is testing every fibre of our society and economy. In these dark hours cows still need to be milked, cereals sown and new life is coming onto farms. Agriculture is a front line industry and unlike any other year children are at home, older people will be cocooned both of which will present many difficulties on farms. With children being vectors for Covid 19 it is important that they are kept away from older people and those with underlying health conditions
The primary focus on health and safety presently is to flatten the Covid 19 curve and keep farm families safe and well. However, this presents other pressures on farms. For the foreseeable future schools will be closed. This will see an increase in the amount of time children will be spending on farms. Children account for 11% of all farm fatalities in the past decade, that's two or three children killed each year on farm.
With the increase in the amount of time that children will be spending on farms thought must be given to farm safety. Given that farming continues and all other attractions are closed, time spent on farms by children will be high.
Advance planning is the best way to counteract dangers and risk. It is a good idea for parents to set aside some time to think and talk about dangers and risks around the farm and how best to minimise them for the children. Parents know the farm, the farmyard, and their kids, best of all.
Parents need to set ground rules. Children should never be allowed into the farmyard unless supervised. Parents should try to make a safe play area. Install a fence to keep children in an area where they are safe. It should be made in view of the house to allow supervision.
Teach children about how to be safe. Small things like setting ground rules.
Stay off tractors
Never go near working machinery.
Livestock must never be approached, especially cows after calving
Never go near slurry pits or dungsteads.
No climbing on bales.
Parents must take control of their own actions
Remove keys from tractors and other vehicles when not in use.
Put on the handbrake.
Ensure that Front loaders are lowered to the ground.
On the farm
It is impossible to operate machinery safely and to look after children at the same time so please do not take any chances and leave jobs involving stock and machinery until there is someone else available to look after the children
Children under seven years of age are not allowed in tractors at all. Don't leave heavy items standing against walls, for example gates or pallets if a child goes to climb these they will most likely result in crush injuries or death
A very good website for kids in relation to farm safety is www.agrikids.ie
Care of elderly
Our Taoiseach has spoken of cocooning our elders. Again people are doing their best in relation to social distancing. Again people need to be careful, not to let children near their elders for the foreseeable future whilst also being mindful of the need to care for the older generation in our country
43% of all farm fatalities are over 65 years of age
Older farmers should be aware that ageing affects mobility, eyesight and balance
Examine work practices where older farmers are involved.
Older farmers need to be reminded of the dangers (particularly tractors, machinery, livestock and accessing heights)
Make sure that the older farmer is physically fit to carry out the work at hand
They should seek help when it is needed to complete the necessary work on the farm
Particular care is needed when older famers are present when work is in progress