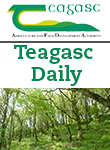 How does your forest grow?
19 March 2020
Type Press Release

FORESTRY: Tree planting is a significant undertaking, the decisions taken at planting time can determine the results over many years. Questions that should be asked and answered prior to planting

by Kevin O'Connell & John Casey, Forestry Development Officers
Teagasc's regular series of Forest and Woodland Establishment Events seek to address many of the questions raised by a change to forestry, like any new farm enterprise. Tree planting is a significant undertaking, the decisions taken at planting time can determine the results over many years.
How is the decision by landowners to plant arrived at? How many people take on to plant basing their decision solely on the amount of premium payments available for a particular species? Sometimes the bigger picture is ignored- the potential value of the crop itself. The first question landowners should ask themselves is- what do I want from my tree crop?
What tree species to plant? In general our forests are plantation forests, comprised mainly of exotic conifer species, the majority of which come from the west coast of North America. Most broadleaf trees planted are native species like oak, alder and birch (ash can no longer be planted because of the ash die back disease). Exotic species like beech and sycamore are also planted. Initial species selection is important- some sites are suitable of growing a good conifer crop and are marginal for broadleaves. Generally, a combination of species is preferable.
What are the needs of individual tree species when planting? It is important to know their nutrient requirements, their light requirements, their rooting and branching habits, their speed of growth etc., in other words their silviculture characteristics. Silviculture is the commercial cultivation of trees for the production of timber, in addition to potential non-timber benefits such as biodiversity enhancement and water management.
What are the best management techniques to adopt to produce a sustainable crop of timber? The Forest Service has produced excellent leaflets on the silvicultural characteristics of tree species, which are available to download from the Forest Service website (www.agriculture.gov.ie/forestservice). After 15-20 years, the faster growing conifers are ready for first thinning and are generating their own income. While slower conifers/broadleaves may not be at this stage, many of these species have a higher biodiversity value which should not be overlooked.
Why is early management so important? New forests require several years of active management to become well established. If a plantation is not well maintained, future timber revenue is likely to be compromised. It is very important to ensure that the young forest performs well and that budding forest owners know what needs to be done each year, even if the management of the plantation has been subcontracted out for the first four years.
How do forest owners protect their investment? The payment of the second instalment of the Afforestation Scheme (maintenance grant) and forestry premium is subject to the forest successfully achieving certain standards. Focus in the first few years will be on controlling the surrounding vegetation, ensuring that browsing animals won't damage the young trees, replanting of failed trees, assessing nutrient needs, shaping of broadleaf trees and reducing the risk of fires.
What can landowners expect from their trees? Landowners consider forestry for many reasons, such as supplementing farm income, farm restructuring, creating bio-diverse native woodland or developing a retirement fund. Forestry continues to be a highly attractive land use option, making marginal land work for farmers. Forests take many years to mature, gradually delivering more and more ecosystem goods and services such as timber production, carbon sequestration, recreation and air quality improvement.
Where can landowners learn more? As an owner of a forest it pays to find out how a stand of trees grows and develops. It is important to acquire some knowledge on the different operations that take place during the life of the woodland. Teagasc's Forestry Development Department provides free independent and objective advice on all forestry queries. Our website www.teagasc.ie/forestry is full of forestry facts and information. Why not sign up to our Teagasc Forestry e–News magazine and get information forwarded to you regularly? www.teagasc.ie/crops/forestry/forestry-e-news/