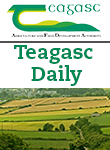 Instagram Live with Teagasc Grass10 & PastureBase Ireland
16 May 2020
Type Event Proceeding

John Douglas from Teagasc Grass10 and Micheal O'Leary from PastureBase Ireland joined us on an Instagram live on Monday, 11 May to answer your questions.

60% of the grass grown annually happens during the mid-season (early Apr to early Aug) and it's important you make the most use of this for your own farm. John Douglas Grass10, and Micheal O'Leary PastureBase Ireland, were on hand on Monday evening, 11 May on the Teagasc Instagram account to answer questions which farmers had in relation to grazing management and using PastureBase at this time of year.
Over 600 people tuned in to the live video and it was viewed a further 1,200 times on the Teagasc Instagram story. There was lots of interaction and many questions came in so there's a good chance if you have a grazing question for your farm, it's answered in this video.
Please follow @TeagsacGrass10 and @PastureBase on twitter. Or join our community on Facebook by searching Teagasc Grass10 PastureBase Ireland Group. Happy Grazing!
View recording below