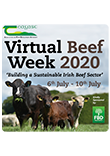 Lessons from the Derrypatrick herd – Q & A
03 July 2020
Type Media Article

The Derrypatrick herd consists of 105 cows it uses 100% AI and selects proven sires based on the €uro-Star sub-index. Beef specialist, Aidan Murray along with researchers Paul Crosson, Bernadette Earley and Orla Keane give us some information on the lessons learned from the herd to date.

In the attached article the following questions are answered:
How does the Performance of the DerryPatrick herd compare with that of the average suckler producer?
Rank the key contributors to financial Performance?
Describe the health strategy for the Derrypatrick herd
What is the one key thing that every suckler farmer should take from the Derrypatrick research at Teagasc Grange?
What are the challenges in applying these lessons to a small herd?