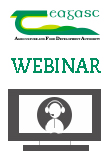 Let's Talk Cattle & Sheep - Suckler Breeding Targets Webinar
15 May 2020
Type Event Proceeding

The first webinar in the 'Let's Talk Cattle & Sheep' series which took place on Wednesday, 13th May.

Download Publication (PDF)
Martina Harrington, Teagasc Cattle Specialist gave a presentation on 'Suckler Breeding Targets' which was followed by a contribution from Michael McManus from the Teagasc Derrypatrick suckler herd in Grange. A discussion was facilitated by Alan Dillon, Teagasc Cattle Specialist.
View webinar recording below:
'Let's Talk Cattle & Sheep' is a series of fortnightly webinars for Irish beef and sheep farmers which will be hosted by Teagasc during May and June 2020. Register for future webinars here Let's Talk Cattle & Sheep Webinar Series