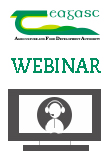 Let's Talk Cattle & Sheep Webinar - Incorporating White Clover on Cattle and Sheep farms
15 June 2020
Type Event Proceeding

The third webinar in the 'Let's Talk Cattle & Sheep' series which took place on Wednesday, 10th June.

Download Publication (PDF)
James Humphrey, Teagasc Researcher gave a presentation on 'Optimising the benefits of clover in grassland' which was followed by a contribution from Eddie O'Riordan from Teagasc Grange. A discussion was facilitated by Alan Dillon, Teagasc Cattle Specialist.