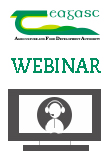 Let's Talk Dairy- Careers in Dairy Farming Webinar
26 June 2020
Type Event Proceeding

On this week's Let's Talk Dairy webinar, host Stuart Childs, Teagasc Dairy Specialist was joined by a panel of dairy professionals and specialists to discuss Careers in Dairy Farming. An overview was given of the NEFERTITI project along with advice on collaborative pathways for dairy farmers and establishing share farming arrangements. Two farm managers also gave an insight into their backgrounds and how they got to their positions today

Download Publication (PDF)
Joining the Let's Talk Dairy webinar this week was Gordon Peppard, Teagasc Farm Structure Specialist, Paidi Kelly, Teagasc Research Officer, John Moriarty, NEFERTITI project, David Fogarty, Farm Manager-Wexford and Cian Jobe, Farm Manager- Longford. The topic to be discussed this week was "Careers in Dairy Farming".
John gave an overview of the NEFERTITI Project, an EU Horizon 2020 project that Teagasc has been involved in for the last 2 years. The aim of the project is to run a series of Farm Demonstrations on a range of 10 topics. The topic of Network 10 is farm attractiveness, where young people are encouraged to pursue careers in dairying.
Gordon gave a presentation on collaborative pathways for dairy farmers. In this presentation, Gordon gave insights into career progression pathways, from both a family and non-family perspective, focusing on 3 particular pathways; Registered Farm Partnerships, Share Farming and Long Term Land Leasing.
Cian gave an update on the current conditions in the Longford farm, paying particular notice to the recent weather conditions. Cian also discussed his background and education and how he got to his current position, and the measures he's taking on the farm to progress the dairy herd. Cian also highlighted his future career goals.
Paidi discussed share farming arrangements, giving advice on establishing a share farming arrangement, as well as advising those interested not to rush into such an arrangement and instead to get some experience on larger scale farms. Paidi also advised on the process of creating a share farming arrangements and how the enterprise might be divided up fairly.
David also gave an update on the conditions on his farm in Wexford, discussing grassland management and the performance of the dairy herd and the breeding season. David gave an insight into his background and the path he took to get to his position as Farm Manager today.
The session ended with Stuart reiterating the need for communication when establishing future arrangements in dairy careers. The take home message was to not rush into arrangements, build your experience beforehand to enable you to be in a better position when negotiating arrangements with land owners.
View the Webinar below
Let's Talk Dairy is a weekly webinar series, taking place every Thursday morning at 10:30 am. Hear the latest relevant and practical advice to allow you to better manage decisions on your dairy farm. For more information and to register for future webinars, click here