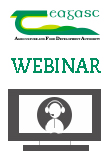 Let's Talk Dairy Webinar- Anthelmintic resistance in gut worms of cattle
13 July 2020
Type Event Proceeding

On the latest Let's Talk Dairy Webinar, host Stuart Childs was joined by Dr. Orla Keane, Teagasc researcher to discuss. Anthelmintic resistance in gut worms of cattle.

Download Publication (PDF)
Orla gave a insight into the background of gut worms in cattle, discussed anthelmintic resistance in Ireland and the risk factors associated with the development of anthelmintic resistance. Finally, Orla gave advice on sustainable worm control.
View webinar here
Let's Talk Dairy is a weekly webinar series, taking place every Thursday morning at 10:30 am. Hear the latest relevant and practical advice to allow you to better manage decisions on your dairy farm. For more information and to register for future webinars, click here