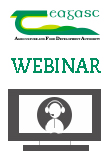 Let's Talk Poultry Webinar - Chick Start - The do's and don'ts to a healthier crop
25 June 2020
Type Event Proceeding

The second webinar in the "Let's Talk Poultry" series for Irish poultry producers in collaboration with Alltech which took place on Wednesday, 17 June.

On Wednesday June 17th, Professor Steve Collett joined Poultry Advisor Rebecca Tierney for the second in the four part series Let's Talk Poultry. Professor Steve discussed the topic of Chick Start, and focused on the Neonatal Intestinal health.
The aim of a broiler farm is to optimise the efficiency of feed conversion into a marketable product. Key to this FCR is the rate of absorption. Steve detailed how management can affect the absorptive ability of the intestinal tract.
The presentation gives great detail about how the absorption of nutrients takes place which aids the understanding of how we can improve this through management.
The third webinar will focus on the laying cycle and how to manage the birds from hatch through rear, right into egg production. Padraig McKenna, Whitaker's Hatcheries, will be discussing, alongside Martin Humphreys, Humphreys Feeds & Pullets; how nutrition and our management can affect the length of lay and also egg size.
"Let's Talk Poultry" is a series of fortnightly webinars for Irish poultry producers which will be hosted by Teagasc in collaboration with Alltech during June and July 2020. Register for future webinars here Let's Talk Poultry Webinar Series
View webinar here